Web surikat
Veecard Wordpress Theme - Download it for free from Site5
Multiple Color Styles You can choose the style of the theme from the multiple color options. Responsive Design Theme design is optimized for proper displaying on iPhone and iPad. HTML5 and CSS3 Implemented using HTML5 and CSS3 technologies along with HTML5Boilerplate-specific resources. Always Up to Date Each theme always updated .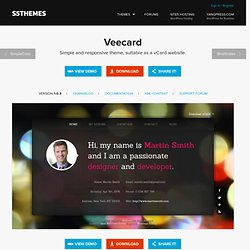 IM Creator - Load
Lantern : web2feel.com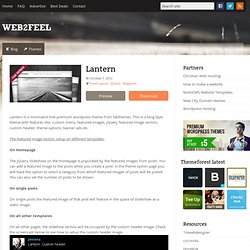 Lantern is a minimalist free premium wordpress theme from fabthemes. This is a blog type theme with features like, custom menu, featured images, jQuery featured image section, custom header, theme options, banner ads etc. The featured image section setup on different templates. On Homepage
Free WordPress Themes | FabThemes - Part 3
Información Legal: El titular de este sitio web es hibu Chile S.A., (en adelante hibu) RUT: 93.541.000-2, con domicilio en Avenida Santa María 0792, comuna de Providencia, Santiago de Chile. El acceso al sitio www.amarillas.cl, propiedad de hibu es gratuito, con excepción de aquellos productos y/o servicios que así se señalan en sus respectivas Condiciones Particulares, donde se indican los precios correspondientes y se, indica si incluyen o no los impuestos aplicables. Esta información legal se completa con la Política de Protección de Datos Personales, con las Condiciones Generales de Uso del sitio de hibu y, en su caso, con las Condiciones Particulares de cada producto o servicio recogidas en cualquiera de los sitios de hibu. Todo el contenido de este sitio es propiedad intelectual de hibu, con la excepción de las imígenes, sonidos e infografías utilizadas bajo licencia, quedando reservados todos los derechos.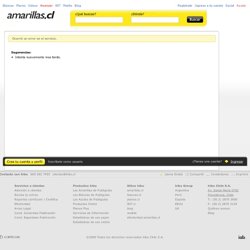 www.sealedair.com por Amarillas.cl (Sealed air)
Cajas y Leyendas deslizante con jQuery
50 inspiradores ejemplos de minimalismo en el diseño Web
Zoom-Info – Imágenes ricas en información
Si han pensado en mostrar unas pocas líneas de texto sobre una imagen en sus sitios, pero no quieren renunciar al diseño actual, crear una imagen rica en información ha de ser una muy buena solución.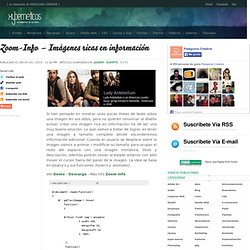 The world's most awesome jQuery & WordPress Image Slider The Nivo Slider is world renowned as the most beautiful and easy to use slider on the market. The jQuery plugin is completely free and totally open source, and there is literally no better way to make your website look totally stunning. If you don't believe us, check out the list of features below and you soon will. 16 Beautiful Transition Effects The Nivo Slider makes displaying your gallery of images a beautiful experience, by using amazing transition effects ranging from slicing and sliding to fading and folding.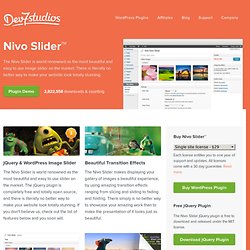 La Red - Initiative
Sociedad Médica de Santiago - Listado general Cursos y Congresos
Congresos Médicos 2011 - Congresos 2011 - www.congresos-medicos.com
Congresos de radiodiagnóstico 2011 - www.congresos-medicos.com