Fun
Should do list
Christian Blachas : histoire(s) de pub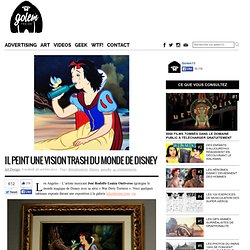 - Pour les intelligents et ouverts d'esprit; on sait que Disney et autres auteurs nous mentent. Films, séries etc - C'est vrai que c'est pas nouveau, mais pas désagréable à revoir. - J'aime les 2 princes qui s'embrassent, tout à fait crédible. - Et oui quand j'étais petite je croyais à Disney, père noël et Dorothée.
Il peint une vision trash du monde de Disney
Il peint le quotidien difficile d'un Super-héros vieillissant
Les vraies cartes de la France
229525] | Alternate Universe
Editor's note: As many readers know, this isn't the first story PR Daily has published on signs you work in PR. Though there is some overlap with this rendition and other versions , we have a feeling readers can relate to many of the items listed below. This story first appeared on PR Daily in January. Public relations is a notoriously stressful career. This year it earned the rank of seventh-most stressful job in America, a drop from last year when it was No. 2 —ahead of airline pilots. To which I beg to differ.
33 (more) signs you work in PR