Sweet
Kristin's Salted Caramel Skillet Cookie. Kristin the beautiful and ultra kind blogger behind Baker in Recovery.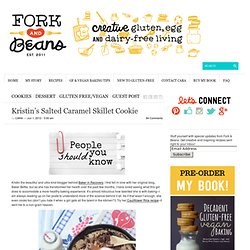 I first fell in love with her original blog, Baker Bettie, but as she has transformed her health over the past few months, I have loved seeing what this girl does to accomodate a more healthy baking experience. It's almost ridiculous how talented she is with baking–I am always reading up on her posts to understand more of the science behind it all. As if that wasn't enough, she even cooks too (don't you hate it when a girl gets all the talent in the kitchen?!) Hazelnut Cream Cheese Brownies  I'll just assume that title alone got your attention.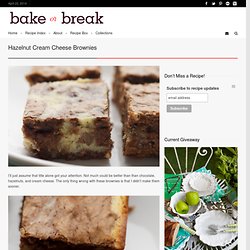 Not much could be better than than chocolate, hazelnuts, and cream cheese. The only thing wrong with these brownies is that I didn't make them sooner. You may remember that I made the famous Fat Witch brownies last year after I received a copy of Fat Witch Brownies. I bookmarked this recipe then, and I've been wanting to make these for just over a year. A year! Homemade Oreos. I made some cookies yesterday from one of the cookbooks I've been wanting to dig into.
Home. Made. Oreos. And all Halloween like with orange creme centers, too. So fun! Pumpkin Recipes - Pumpkin Cakes, Desserts, and More. Secrets to Boston Cream Cupcakes. When we set out to combine Massachusetts' official dessert and every child's favorite sweet snack, we knew the biggest challenge would be finding a way to fill the soft, moist cake with enough rich, creamy custard to please adults and kids alike.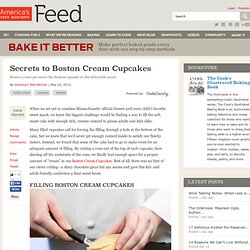 Many filled cupcakes call for forcing the filling through a hole at the bottom of the cake, but we knew that we'd never get enough custard inside to satisfy our finicky tasters. Instead, we found that some of the cake had to go to make room for an adequate amount of filling. By cutting a cone out of the top of each cupcake, then shaving off the underside of the cone, we finally had enough space for a proper amount of "cream" in our Boston Cream Cupcakes. Για πετυχημένη μαρέγκα - Συνταγές μαγειρικής. Χάλια μαύρα!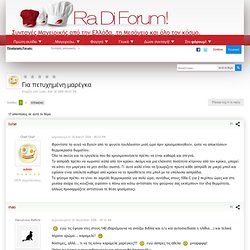 Η δεύτερη φορά ήταν χειρότερη Το χρώμα το πέτυχα αλλά... χάλια ήτανε, χάλια! Κατ' αρχήν αυτή την φορά έβαλα και λίγη άχνη ζάχαρη αλλά... την ένοιωθα! How to eat your favorite vegetable and your favorite dessert at the same time. - Something Edible. Abstract: Those jumbo zucchinis that seem to be good for nothing but baked goods are always welcome in my kitchen.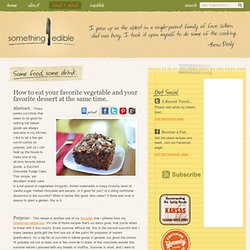 I like to let a few get out-of-control on purpose, just so I can heat up the house to make one of my all-time favorite baked goods: a Zucchini Chocolate Fudge Cake. This simple, yet decadent snack cake is a full pound of vegetables incognito; buried underneath a crispy-crunchy layer of vanilla sugar, melted chocolate and pecans. Is it good for you? Chocolate Zucchini Cake III Recipe. Chocolate Zucchini Cake. Chocolate & Zucchini Cake. Having chosen the name of my blog to illustrate the two sides of my culinary personality — my love of fresh, seasonal produce but also my appreciation for desserts — I couldn't justify not having a Chocolate & Zucchini cake in my baking repertoire.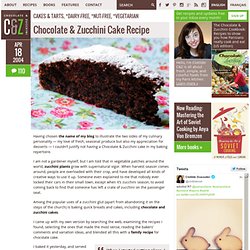 I am not a gardener myself, but I am told that in vegetable patches around the world, zucchini plants grow with supernatural vigor. When harvest season comes around, people are overloaded with their crop, and have developed all kinds of creative ways to use it up. Someone even explained to me that nobody ever locked their cars in their small town, except when it's zucchini season, to avoid coming back to find that someone has left a crate of zucchini on the passenger seat.
Chocolate zucchini cake. This past Friday night was meant for celebrating.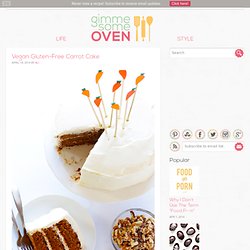 The weather was sit-out-on-the-deck-in-the-cool-evening-breeze perfection. Friends gathered from all around the city with chips and salsa and salads and popcorn and laughter and stories to share. The fire pit was aflame. The candles were lit on this (gluten free and vegan) carrot cake. And a very special birthday girl turned the big 3-0. Healthy Applesauce Zucchini Bread. One of my favorite summer treats growing up has been zucchini bread.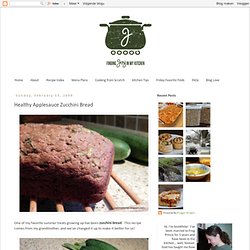 This recipe comes from my grandmother, and we've changed it up to make it better for us! Typically, quick breads are high in sugar, use all-purpose flour and lots (~ 1 C) of oil. Applesauce-zucchini Bread | Better Recipes. Zucchini Bread. 3 eggs 1 c. oil 2 tsp. vanilla 2 c. sugar 2 c. grated zucchini 3 c. flour 3/4 tsp. salt 1 tsp. baking soda 3 tsp. cinnamon 3/4 tsp. baking powder 1 c. applesauce Add nuts and raisins if you like Beat eggs until light.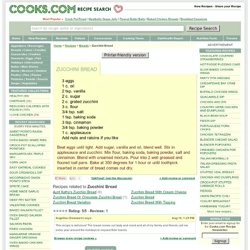 Add sugar, vanilla and oil, blend well. Stir in applesauce and zucchini. Carrot Cupcakes with Cream Cheese Frosting Recipe : Ellie Krieger : Recipes. How To Replace Butter With Banana In Baking. Although some people say that butter makes everything better, it also adds a whopping 1,600 calories and 177 grams of fat for every cup you use while baking. Fats such as butter are typically used to add tenderness and moisture to breads, muffins, cakes cookies and other baked goods. You can easily lighten up some of your recipes by substituting all, or most, of the fat in your recipe with mashed bananas.
Banana isn't usually used as a measure-for-measure replacement. Start by using half as much mashed banana and mixing the batter. How To Cook Light With Bananas. While one medium banana contains 110 calories, it has no fat, cholesterol or sodium. Additionally, a banana provides 3 g of fiber and is a strong source of potassium and vitamin C. These attributes mean that you can bake with bananas to make light recipes. Use bananas in place of butter, shortening or oil to cut down on the recipe's total amount of fat, saturated or trans fat and cholesterol. You can also use bananas to replace sugar or eggs.
However, you might need to take certain measures to maintain the proper consistency of the recipe. Red Velvet Cake in a Jar. What happens when you take the classic flavor of red velvet cake, zap it in the microwave in under two minutes, then serve it layered with nutella and cream cheese frosting in a jar? I'd tell you, but since making a batch of such cakes myself, I've been living on a golden cloud while a shirtless Fabio feeds me grapes and escargot. Dreamy, people. That's what this cake is. If you can't do dreamy tonight, no worries. A Strawberry Tart – Sweetsonian. It's too easy. It's too easy to get stuck in a rut, sometimes even more so than it is to spend time actually living your life.
You're probably thinking, what in the world is this girl talking about? Well, here's the deal. In the last few weeks, I was robbed in the street (good-bye, my cherished iPhone 4s), I decided to apply to graduate school, I took the GREs, I wrote my graduate schools essays, and I've been working on my path to freedom: freelance. To some of you, that might sound like a self-inflicted personal hell. Jamie oliver banoffee pie recipe. January 12, 2011 OK, so this household is having a complete rejuvenated love affair with Jamie Oliver, the likes it has not seen since his Naked Chef days. I think it was seeing his hard slog in the US and how it knocked the wind out of his sails a bit that did it. It was cemented with his 20 Minute Meal iPhone app. Mississippi Mud Pie [club: BAKED]
>Strawberry and Blueberry Custard Pie. Clone of a Cinnabon Recipe. Flourless Chocolate Cake. Black Tie Mousse Cake. 30-Minute Chocolate Fudge Cake. « :: Playing House :: Cinnabon Cinnamon Roll Cake | Mis-Cakes Oven Adventures. Παραδοσιακή English trifle. Fake Food Free: Pie It Forward: Chocolate Fleur de Sel Caramel Tart. Portuguese Girl Cooks: Oatmeal Nutella Cookies. Chocolate and Ginger Cookies | A Spoonful of Sugar. Holiday Trends: Boozy Bourbon Chocolate Cupcakes. Ο ιστότοπος δεν είναι διαθέσιμος.
---