Infographie 2D 3D
Erew. Gnomon School of Visual Effects | Professional 3D Training in Ho. Training. Annuaire de tutoriels video | video-tuts.fr. Welcome to 3dRender.com. Computer graphics, animation, VFX & games courses - Escape Studi.
Underwater caustics effect. Michele:Nobody have an idea of how to create an animation using many texture where each one rappresent a photogram?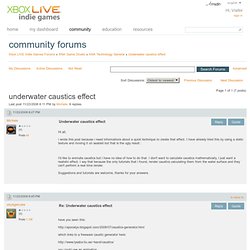 I suppose you want to load in many separate images from your machine and then play them back during run time to form an animation? It might be better if you use sprite sheets instead i.e. one single image that contains all the frames of the animation. Loading and using one sprite sheet is much more efficient than loading mutliple sprites during run time. Caustics Generator. Buy The Windows versions of Caustics Generator Lite and Caustics Generator Pro are available for online purchase.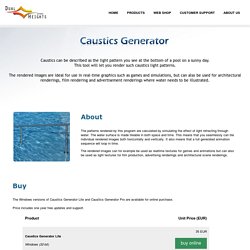 Price includes one year free updates and support. All prices are given excluding VAT. Purchases within EU will add +25% VAT. Free Tutorials All. 3D Total. CGTalk. Tutoriaux Gratuits pour Vray et 3dsMax en français ! mattguetta. Z le PoiZon, Ressources, Photothèque, annuaire de tutoriels, tut. Z le PoiZon, Ressources, Photothèque, annuaire de tutoriels, tut. Wow Effect ! Tutorials | Aetuts+ Fxphd - visual effects and production training. Photoshop Brushes. The Top Ten Tips of Texturing. One way to create dirt has already been covered, and that's photo overlays.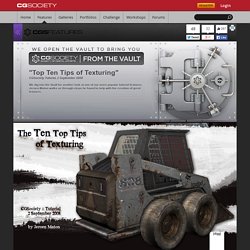 Those are great for general wear and tear on your texture. If you want small specific details, you'll need to use other techniques. Below are a two techniques I frequently use, one for dust and dirt, and one for rust. Dust and dirt can be done very quickly with a solid brownish layer and a layer mask. Simply put the dirt layer at the top of your stack, and paint with a low opacity and flow.
---