Gaming
Conflict: Global Terror
In Battlefield 2, players will choose to fight for one of three military superpowers: the United States, the Chinese, or the newly formed Middle East Coalition.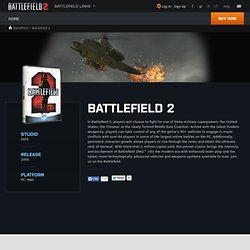 Battlefield 2:: Home
Battlefield 2142::
The Orange Box - 5 Games. One Box.
Supreme Commander™ - PC
Project of Planets
Dungeons & Dragons Online®: Eberron Unlimited™ Sign Up Now!
PERPETUUM
DONTBLYNK ::: kos.dontblynk.com
Mercenary Wars - The Next Generation of FPS is Here
Arena 1337 - Computer Game Center Affiliation & Game Center Cons
Internet Cyber Cafe, Game Center Software, Business Plan & Sweep
iGames - Uniting LAN Centers Around The World
iGames - Lan Centers