Gaming
Conflict: Global Terror
In Battlefield 2, players will choose to fight for one of three military superpowers: the United States, the Chinese, or the newly formed Middle East Coalition. Armed with the latest modern weaponry, players can take control of any of the game's 30+ vehicles to engage in major conflicts with over 64 players in some of the largest online battles on the PC. Additionally, persistent character growth allows players to rise through the ranks and attain the ultimate rank of General. With more than 2 million copies sold, this proven classic brings the intensity and excitement of Battlefield 1942™ into the modern era with enhanced team play and the latest, most technologically advanced vehicles and weapons systems available to man.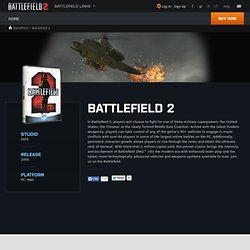 Battlefield 2:: Home
Battlefield 2142::
The Orange Box - 5 Games. One Box.
Supreme Commander™ - PC
Command & Conquer in your Browser!Command & Conquer in your Browser!Command & Conquer in your Browser!Command & Conquer in your Browser!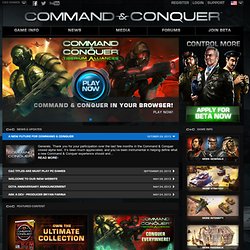 Project of Planets
Dungeons & Dragons Online®: Eberron Unlimited™ Sign Up Now!
PERPETUUM
DONTBLYNK ::: kos.dontblynk.com
Mercenary Wars - The Next Generation of FPS is Here
Helping Gamers Get Down To Business. Do you love games? Of course you do; everyone loves games. But are you a gamer?
Arena 1337 - Computer Game Center Affiliation & Game Center Cons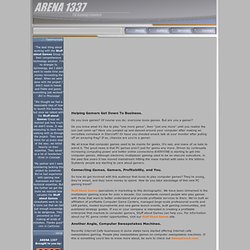 Internet Cyber Cafe, Game Center Software, Business Plan & Sweep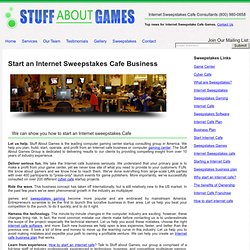 Let us help. Stuff About Games is the leading computer gaming center startup consulting group in America. We help you plan, build, start, operate, and profit from an Internet cafe business or computer gaming center. The Stuff About Games Group is dedicated to delivering results to our clients by providing compelling insight from over 10 years of industry experience. Deliver serious fun.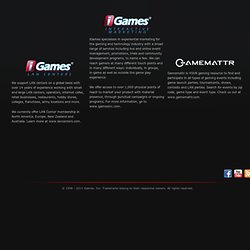 We support LAN centers on a global basis with over 14 years of experience working with small and large LAN centers, operators, internet cafes, retail businesses, restaurants, hobby stores, colleges, franchises, army locations and more. We currently offer LAN Center membership in North America, Europe, New Zealand and Australia. Learn more at www.lancenters.com. iGames specializes in experiential marketing for the gaming and technology industry with a broad range of services including live and online event management, promotions, trials and community development programs, to name a few. We can reach gamers at many different touch points and in many different ways: individually, in groups, in-game as well as outside the game play experience. We offer access to over 1,000 physical points of reach to market your product with material presence, through punctual campaigns or ongoing programs.
iGames - Uniting LAN Centers Around The World
iGames - Lan Centers