Tutoriales
Guías Rápidas para Compartir Conocimientos. Autohotkey Automatizar tareas windows scripts trucos. Por admin el septiembre 29th, 2009 Una de las utilidades más interesante que me he encontrado últimamente es AutoHotkey.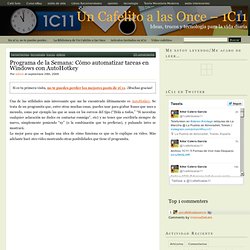 Se trata de un programita que, entre otras muchas cosas, puedes usar para grabar frases que uses a menudo, como por ejemplo las que se usan en los correos del tipo ("Hola a todos," "Si necesitas cualquier aclaración no dudes en contactar conmigo", etc) y no tener que escribirla siempre de nuevo, simplemente poniendo "xy" (o la combinación que tu prefieras), y pulsando intro se mostrará. PHP Ya. Imacros Wiki. Firefox mas rapido para Travian. Tienes hackeado tu travian y quieres saber como navegar mas rapido estos trucos te serviran: 1.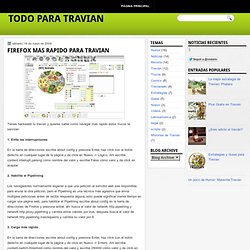 Evita las interrupciones En la barra de direcciones escribe about:config y presiona Enter, haz click con el botón derecho en cualquier lugar de la página y da click en Nuevo -> Lógico. Ahí escribe content.interrupt.parsing cómo nombre del valor y escribe False cómo valor y da click en aceptar. 2. Megapost Cursos, libros todo Informatica (MU|RS) SECURITY TIPS.
1) Please keep your antivirus updated because every passing minute hundreds of new virus and trojans are born and left loose in the cyberspace. 2) Use software like "spyware doctor" to protect you against spying trojans ,cookies etc and keep it updated. 3) If you have downloaded a file or setup and after clicking it, if you notice that it is taking very long time to install or is responding weirdly stop the process right there, if it is not closing use task manager to close it and delete the file permanently, it was probably installing a backdoor in your computer. 4) If some software needs you to disable the antivirus or it is suggested such by the uploader please first check this things.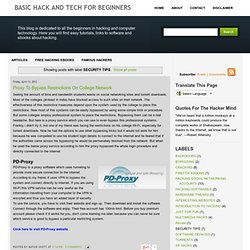 Manuales y tutoriales, vb, c++, sql server y mucho mas.
---