Livres d'artistes - Edition art contemporain
LATE NIGHT EXHIBITION OPENING at THE REGENCY TOWN HOUSE Saturday 30 October 2010 From 7.30pm until 12 midnight, Free Hot Sake and Prosecco bar / Temporary artist bookshop As part of Brighton Photo Fringe Late Exhibition Openings for White Night.
The Permanent Bookshop - artist's-books, zines, periodicals and other printed novelties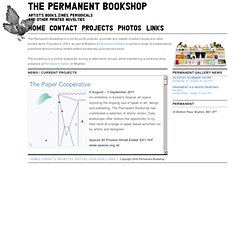 Published Art Bookshop - Bookshop
La Librairie Artcurial propose dans un espace prestigieux 18 000 références dans les domaines de l'Art du 20e siècle avec un rayon Catalogues raisonnés et Livres Epuisés très important. Les livres étrangers, notamment les catalogues d'expositions sont particulièrement présents. Elle possède un large choix dans les domaines suivants : Par ailleurs une équipe spécialisée répond à vos demandes de recherches bibliographiques dans la vraie tradition de la librairie d'art.
Librairie d'Art Artcurial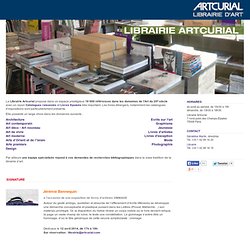 Shop | Self Publish, Be Happy
Dashwood Books
DALPINE | Independent & Self-Published Books
Idea Books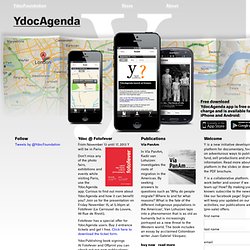 Y
From November 13 until 17, 2013 Y will be in Paris. Don't miss any of the photo fairs, exhibitions and events while visiting Paris, use the YdocAgenda app. Curious to find out more about YdocAgenda and how it can benefit you? Join us for the presentation on Friday November 15, at 5.30pm at Fotofever (Le Carrousel du Louvre, 99 Rue de Rivoli). Fotofever has a special offer for YdocAgenda users. Buy 2 entrance tickets and get 1 free.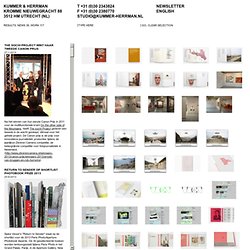 Sipke Visser's "Return to Sender" staat op de shortlist voor de 2013 Paris Photo/Aperture Photobook Awards. De 30 geselecteerde boeken worden tentoongesteld tijdens Paris Photo in het Grand Palais, Parijs, in de Aperture Gallery, New York; en ze zullen nog reizen naar andere venues. In Parijs zal de jury de winnaars bekend maken tijdens de opening van Paris Photo in November.
KUMMER & HERRMAN
Revolver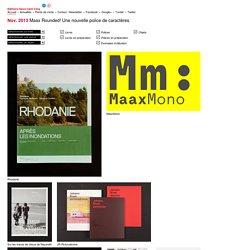 De A à Z: jouer avec l'alphabet 12647-2 + Nature-xL Sur les traces de Jésus de Nazareth
Éditions Deux-Cent-Cinq
2010publications
éditions P - Bonjour
CopieCarbone
Passenger Books
edition fink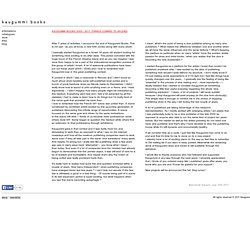 After 7 years of activities, I announce the end of Kaugummi Books. This is not sad : as you all know, a new birth comes along with every death. I basically started Kaugummi as a bored 19 years old student looking for something more exciting to do after class. This period coincided with the huge boom of the French drawing scene and as you can imagine I was more than happy to be a part of the international recognition process of this group of artists I loved. A lot of awesome publications have been put out these years (2005 / 2006) and I love to remember how Kaugummi rose in this great publishing context.
kaugummi (dead)
dasein Editions
DAVIET_THERY
Seems
People Around Here, by Jason Polan People Around Here is a component of Polan's larger project Every Person in New York, where he is attempting to draw every person in New York. Here, he is focusing on the area around Broadway and 29th Street.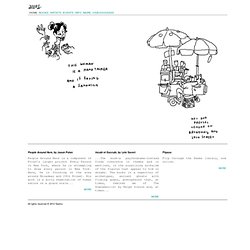 Editions mix
Editions Jannink
It : editions
la trame Edition de livres d'artistes, essais, affiches, cartes postales, vidéos à tirage limité Organisation d'expositions en rapport avec les publications. « Créée en 2001 à Bruxelles, la trame édite des livres d'artistes, des essais et plus récemment de la vidéo, invitant des personnalités aussi différentes que complémentaires à s'exprimer en regard les unes aux autres.
Editions "la Trame"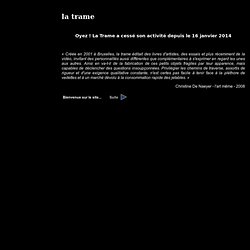 Zédélé éditions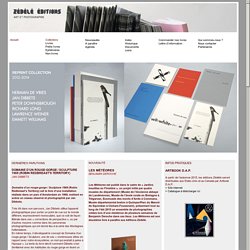 OFFPRINT PARIS14-17 novembre 2013 Ecole supérieure des Beaux-arts, Paris Offprint Paris est un salon de publications dédiées aux pratiques émergentes de l'art. Durant 4 jours, il rassemble des éditeurs indépendants et institutionnels venus du monde entier pour présenter des publications d'artistes, de graphistes, de photographes, d'éditeurs, de musées, d'écoles, de commissaires, et de centres de recherches : 100 éditeurs d'art, de graphisme et de photographie, 15 pays représentés. Programme des signatures pendant Offprint : Julien Nédélec - Jeudi de 17h à 20 h Signature-performance de Julien Nédélec qui publie aux éditions Zédélé Titrer et une nouvelle édition de Feuilleté.
Éditions Xavier Barral
Nieves
Images en manoeuvres éditions
Poursuite Edition
Notre société est l'un des seuls opérateurs significatifs associant savoir-faire, outils de communication (revues, e-marketing) et fichiers clients afin d'assurer la promotion et la diffusion de l'art contemporain et de l'architecture. Nos métiers sont : 1. Les éditions Archibooks qui se consacrent à la création contemporaine : architecture, art contemporain et design. Archibooks publie monographies, catalogues d'exposition, essais et entretiens d'artistes au rythme d'une quarantaine d'ouvrages par an, distribués dans un millier de points de vente. 2.
Bookstorming
Pierre von Kleist Edtions