Startup
I am preparing to launch a new web service in the next few weeks. I don't have an exact date yet, but I have been putting together my pre-launch checklist of things to do, as well as a detailed launch plan. When looking for resources about the best way to launch a software business, I found many useful articles, but not very many consolidated resources which laid everything out in an easy to digest manner.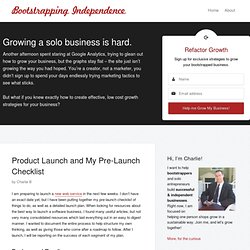 Planning product launch and my pre-launch checklist | Bootstrapping Independence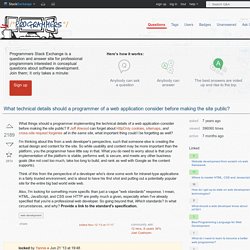 What things should a programmer implementing the technical details of a web application consider before making the site public? If Jeff Atwood can forget about HttpOnly cookies, sitemaps, and cross-site request forgeries all in the same site, what important thing could I be forgetting as well? I'm thinking about this from a web developer's perspective, such that someone else is creating the actual design and content for the site. So while usability and content may be more important than the platform, you the programmer have little say in that.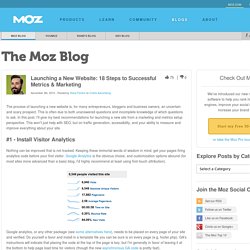 The process of launching a new website is, for many entrepreneurs, bloggers and business owners, an uncertain and scary prospect. This is often due to both unanswered questions and incomplete knowledge of which questions to ask. In this post, I'll give my best recommendations for launching a new site from a marketing and metrics setup perspective.
Lessons Learned From Helping Over 150 Startups With Marketing Part 1: Fundamentals « insight.io blog
By Jana Fung and Scott Kamino Although it may seem intuitive to invest resources in the games that have been struggling in the Play Store since inception, new data from MixRank suggests that focusing marketing efforts on new games will give mobile apps the highest probability of reaching the top charts. In this study, we first looked at the most successful free games in 2013, and spotted trends for specific milestones.