Java
Httpurlconnection - How to use java.net.URLConnection to fire and handle HTTP requests. Java - Examples of GoF Design Patterns. Java IAQ: Infrequently Answered Questions. By Peter Norvig Q: What is an Infrequently Answered Question?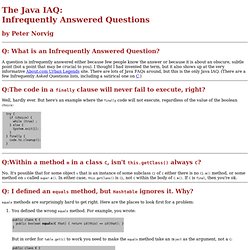 A question is infrequently answered either because few people know the answer or because it is about an obscure, subtle point (but a point that may be crucial to you). I thought I had invented the term, but it also shows up at the very informative About.com Urban Legends site. Inversion of Control Containers and the Dependency Injection pattern. In the Java community there's been a rush of lightweight containers that help to assemble components from different projects into a cohesive application.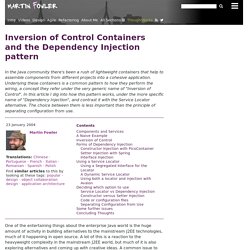 Underlying these containers is a common pattern to how they perform the wiring, a concept they refer under the very generic name of "Inversion of Control". In this article I dig into how this pattern works, under the more specific name of "Dependency Injection", and contrast it with the Service Locator alternative. The choice between them is less important than the principle of separating configuration from use.
---