Muffins and cupcakes
Hummingbird Bakery Vanilla Cupcakes Recipe (Adapted for High-Altitude) Ingredients For the Vanilla Cupcakes: (enough for 10 cupcakes)1 cup all-purpose floura scant 3/4 cup sugar1 teaspoon baking powder (increase to 1 1/2 teaspoons for sea-level)a pinch of salt3 tablespoons unsalted butter, at room temperature1/2 cup plus 1 tablespoon of whole milk (decrease to 1/2 cup for sea-level)1 large egg 1/4 teaspoon pure vanilla extract For the Vanilla Buttercream Frosting: (enough for 12 cupcakes)2 cups powdered sugar, sifted5 tablespoons unsalted butter, at room temperature2 tablespoons whole milka couple of drops of pure vanilla extractedible sprinkles for decoration The Hummingbird Bakery Cookbook's Vanilla Cupcakes Recipe (Adapted for a high-altitude environment of approximately 5,000 ft) Preheat the oven to 375 (F); for sea-level, decrease the oven temperature to 325 (F).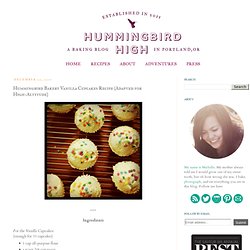 "Manju" Traditional Steamed Cake (Japan) I love any kind of steamed cakes, especially humbows.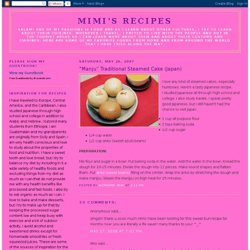 Here's a tasty Japanese recipe. I studied Japanese all through high school and college. I also study Karate. Mushi-Pan a.k.a. Japanese Steamed Cake. Long time…Eh?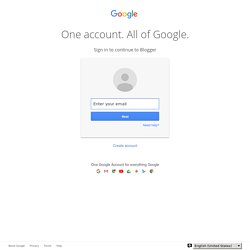 I was under a lethargic spell. Of course, I cooked food – but just didn't have the energy to post anything. Hmmm… Blueberry Corn Muffins Recipe. Honey- & Goat Cheese-Filled Fig Muffins Recipe. Gluten-Free Cornmeal, Fig and Orange Muffins — Recipes for Health. Three Bell Peppers: Chocolate Oatmeal Muffins. Makes 12 Muffins Calories Per Muffin : 92 CaloriesIngredients: 30gms Unsweetned Cocoa Powder 250gms Oatmeal 200ml Low Fat Milk or Skim Milk 50gms Plain Flour 1 egg 1 teaspoon vanilla extract 50ml Honey 2 teaspoon baking powder 1/2 teaspoon salt 4teaspoon unsalted Butter(Room Temp)Method:Preheat oven to 400 degrees FGrease 12cup Muffin tray with a little butter and sprinkle a dash of plain flour.In a large bowl combine oatmeal, plain flour, cocoa powder, baking powder, salt and mix well.In a small bowl, combine, milk ,egg, butter, honey, vanilla extract and mix well.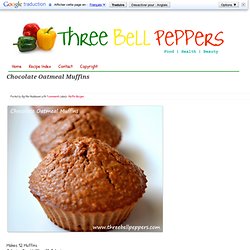 Pour wet ingredients over dry ingredients. Stir until blended( Do not over mix)Spoon the batter into the cups, filling each about 2/3rd fullBake until a toothpick inserted comes out clean, for about 20 -25 minutes.Cool for 5minutes, remove from the tray and serve Oatmeal Nutritional Facts: Zizi's Adventures: Vegan Corn Blueberry Muffins. I have never mixed fresh corn and blueberry before.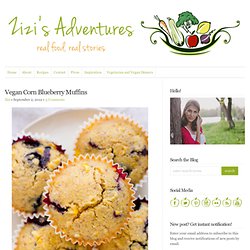 But I can tell you… I missed a lot. Imagine little sweet indigo-coloured berries and little sweetish yellow corn kernels in soft, moist muffins with a bit of crispness from the cornmeal. You got it? I bet you say "wow"! I said the same when I first tasted these muffins. White Russian Cupcakes | PheNOMenal. My friend, Blake, asked if I would make a dessert for his girlfriend, Courtney's birthday, and since there is nothing that I love better than an excuse to bake I agreed!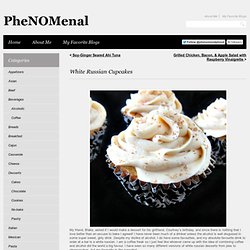 I have never been much of a drinker unless the alcohol is well disguised in some super sweet, girly drink. Despite my dislike of alcohol, I do have some favourites, and my absolute favourite drink to order at a bar is a white russian. I am a coffee freak so I just feel like whoever came up with the idea of combining coffee and alcohol did the world a big favour. Dulce de Leche Muffins. Professional Style Buttercream Frosting | Yammie's Noshery.
The other day it was my sister Nemo's 20th birthday.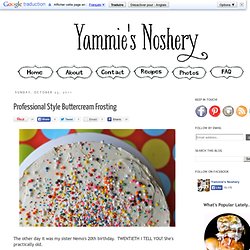 TWENTIETH I TELL YOU! She's practically old. Gooseberry mooseberry: Mini Mojito Cupcakes. How do you make a mojito cupcake?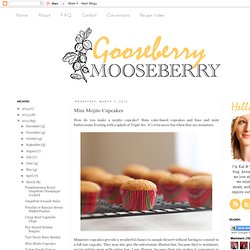 Rum cake-based cupcakes and lime and mint buttercream frosting with a splash of Triple Sec. It's even more fun when they are miniature. Miniature cupcakes provide a wonderful chance to sample dessert without having to commit to a full size cupcake. Irish Car Bomb Cupcakes - Boozy Baking. (Chocolate Stout Cupcakes with Jameson Ganache and Bailey's Buttercream- recipe in post) Whenever I start to think about making cupcakes, I get very excited, and then I get overwhelmed, and then I get discouraged.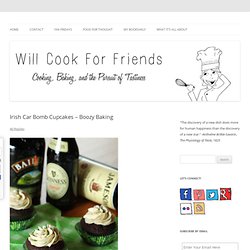 The thought process goes something like this: "Delicious cupcakes and frosting! #67 Superbowl/Football Themed Chocolate Cupcakes » Thursday Night Baking. I like football, I really do.
My problem is that I need someone to say "Hey, lets go watch the Raiders game" otherwise I'm not going to watch it. I make an effort to watch College Football, particularly USC, but I'm not so great at watching the NFL. Maybe it is because I can relate more to College Football, who knows but there is just something less exciting about the NFL to me. Anyways, even though I'm not a crazy NFL fan, I was born into a Raiders family so that is just who I root for. Www.sugarmountainbakeshoppe.com/assets/brochure.pdf. Rosemary-Corn Muffins. Save to your Collections Sorry for the inconvenience! Saving is temporarily unavailable as we work through a few kinks in our new recipe design (we hope you like it!).
Don't worry, your collections are safe and you'll be able to save recipes again very soon. Review this Recipe. Creme Brulee Cupcakes. Crème Brulee Cupcakes ~ Crème brulee nested inside a chocolate cupcake- Wow. Forget death by chocolate, how about death by cupcake. This is a killer combination. Creme Brulee Cupcakes. Buttermilk-Vanilla Cupcakes with Chocolate Sour Cream Frosting. As any baker knows, we're often left with leftover buttermilk. This just happened to me this week; I made a chocolate cake with salted caramel filling and chocolate sour cream frosting for my father's birthday dinner (sadly, no photos of this heavenly cake, as we were at a restaurant and I have no photos…) that called for buttermilk. I also made too much frosting, so I decided to spend the next evening whipping up a one-bowl recipe for vanilla cupcakes that uses buttermilk.
And nothing better to use up chocolate frosting than a vanilla cupcake, so what an added bonus! These are pretty much the perfect cupcake. I heart cupcakes. This week was a week of celebrations for Wally and I. First off, last Monday was our first anniversary. One year since we know each other....I can't believe it...It seemed yesterday that we met at Nomad Cafe in Berkeley for a beer. And at the same time so many things happened that it could seem 10 years ago. Banana, Nutella, & White Chocolate Cupcakes. Nutella: the food of the gods.
I grew up with the stuff, getting my own jar each Christmas as a special gift from my German relatives. This was before it could be found in every supermarket in the States so it was a real treat for us. My mom not only allowed but encouraged us to try it in unique ways: on sandwiches, paired with fresh fruit, or simply by the spoonful. One Year Old | Pretty. Good. Food. Chocolate Cupcake Recipe-Gourmet Cupcakes-Chocolate Mousse Recipe. Chocolate Cupcakes with (or without) Orange Frosting: pick the one you like most. Hummingbird Bakery Chocolate Muffins. Cookies and Cream Cupcakes. Quinoa Pecan Muffins. Raspberry and Jam Muffins. Chocolate Chip Muffins. How to Make the Best Muffins Ever.
---