Muffins and cupcakes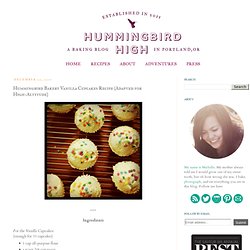 Hummingbird High: Hummingbird Bakery Vanilla Cupcakes Recipe (Adapted for High-Altitude)
Ingredients
"Manju" Traditional Steamed Cake (Japan)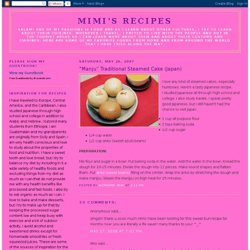 I love any kind of steamed cakes, especially humbows.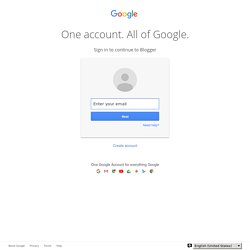 Mushi-Pan a.k.a. Japanese Steamed Cake
Long time…Eh?
Blueberry Corn Muffins Recipe
Honey- & Goat Cheese-Filled Fig Muffins Recipe
Andrew Scrivani for The New York Times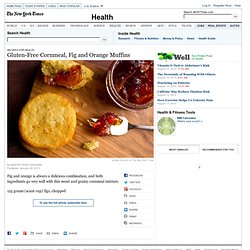 Gluten-Free Cornmeal, Fig and Orange Muffins — Recipes for Health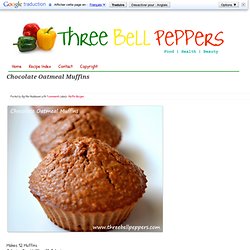 Makes 12 Muffins Calories Per Muffin : 92 CaloriesIngredients: 30gms Unsweetned Cocoa Powder 250gms Oatmeal 200ml Low Fat Milk or Skim Milk 50gms Plain Flour 1 egg 1 teaspoon vanilla extract 50ml Honey 2 teaspoon baking powder 1/2 teaspoon salt 4teaspoon unsalted Butter(Room Temp)Method:Preheat oven to 400 degrees FGrease 12cup Muffin tray with a little butter and sprinkle a dash of plain flour.In a large bowl combine oatmeal, plain flour, cocoa powder, baking powder, salt and mix well.In a small bowl, combine, milk ,egg, butter, honey, vanilla extract and mix well.
Three Bell Peppers: Chocolate Oatmeal Muffins
Zizi's Adventures: Vegan Corn Blueberry Muffins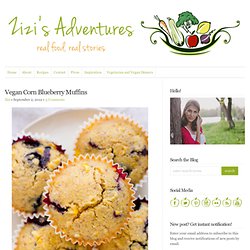 I have never mixed fresh corn and blueberry before. But I can tell you… I missed a lot.
My friend, Blake, asked if I would make a dessert for his girlfriend, Courtney's birthday, and since there is nothing that I love better than an excuse to bake I agreed!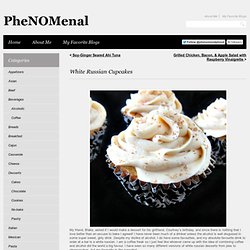 White Russian Cupcakes | PheNOMenal
Dulce de Leche Muffins
The other day it was my sister Nemo's 20th birthday. TWENTIETH I TELL YOU! She's practically old.
Professional Style Buttercream Frosting | Yammie's Noshery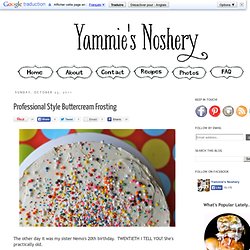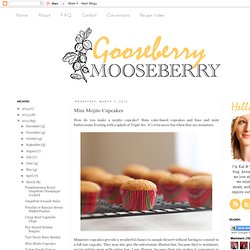 gooseberry mooseberry: Mini Mojito Cupcakes
How do you make a mojito cupcake?
Irish Car Bomb Cupcakes - Boozy Baking
(Chocolate Stout Cupcakes with Jameson Ganache and Bailey's Buttercream- recipe in post)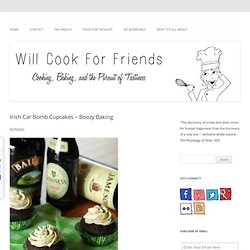 I like football, I really do.
#67 Superbowl/Football Themed Chocolate Cupcakes » Thursday Night Baking
www.sugarmountainbakeshoppe.com/assets/brochure.pdf
Rosemary-Corn Muffins
Save to your Collections
Creme Brulee Cupcakes
Crème Brulee Cupcakes ~ Crème brulee nested inside a chocolate cupcake- Wow.
As any baker knows, we're often left with leftover buttermilk.
Buttermilk-Vanilla Cupcakes with Chocolate Sour Cream Frosting
This week was a week of celebrations for Wally and I.
I heart cupcakes
Banana, Nutella, & White Chocolate Cupcakes
One Year Old | Pretty. Good. Food.
Chocolate Cupcake Recipe-Gourmet Cupcakes-Chocolate Mousse Recipe
Chocolate Cupcakes with (or without) Orange Frosting: pick the one you like most
Hummingbird Bakery Chocolate Muffins
Cookies and Cream Cupcakes
Quinoa Pecan Muffins
Raspberry and Jam Muffins
Chocolate Chip Muffins
How to Make the Best Muffins Ever