China
China protests: Panasonic suspends some operations
17 September 2012 Last updated at 10:13 ET The BBC's Martin Patience: ''The protests show that Beijing must do something to solve this dispute'' Some of Japan's biggest firms have suspended operations at some factories in China as safety concerns grow amid violent anti-Japan protests. Panasonic said its factory in Qingdao would remain shut until 18 September, while Canon has also temporarily suspended operations at three plants. Honda, Mazda and Nissan are stopping car production for two to four days.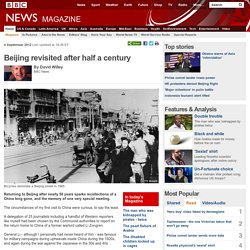 Beijing revisited after half a century
4 September 2012 Last updated at 23:35 GMT By David Willey BBC News Bicycles dominate a Beijing street in 1965 Returning to Beijing after nearly 50 years sparks recollections of a China long gone, and the memory of one very special meeting. The circumstances of my first visit to China were curious, to say the least.
China: The paradox of foreign education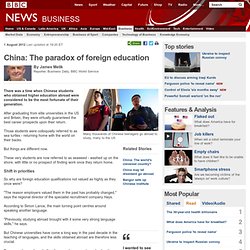 1 August 2012 Last updated at 19:20 ET By James Melik Reporter, Business Daily, BBC World Service Many thousands of Chinese teenagers go abroad to study, many to the US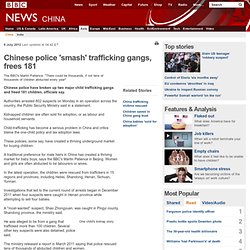 6 July 2012 Last updated at 08:42 GMT The BBC's Martin Patience: "There could be thousands, if not tens of thousands of children abducted every year" Chinese police have broken up two major child trafficking gangs and freed 181 children, officials say. Authorities arrested 802 suspects on Monday in an operation across the country, the Public Security Ministry said in a statement.
Chinese police 'smash' trafficking gangs, frees 181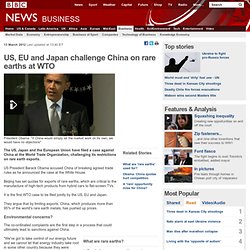 13 March 2012 Last updated at 13:40 ET President Obama: "If China would simply let the market work on its own, we would have no objections'' The US, Japan and the European Union have filed a case against China at the World Trade Organization, challenging its restrictions on rare earth exports. US President Barack Obama accused China of breaking agreed trade rules as he announced the case at the White House. Beijing has set quotas for exports of rare earths, which are critical to the manufacture of high-tech products from hybrid cars to flat-screen TVs.
US, EU and Japan challenge China on rare earths at WTO
12 March 2012 Last updated at 21:06 ET By Michael Bristow BBC News, Beijing Xi Jinping, right, and Li Keqiang are expected to retain their seats in the party's politburo There are no opinion polls, no official candidates, not even a declared race - but a political campaign has begun in China. Senior politicians are vying to secure promotion when the Chinese Communist Party reshuffles its top leaders later this year. Some are using China's annual parliamentary session, currently taking place in Beijing, to push their competing claims.
China's leaders jockey for top posts
Viewpoint: A year of transition, uncertainty and change
2 January 2012 Last updated at 12:13 ET By Rajiv Biswas Asia-Pacific Chief Economist, IHS Global Insight China's continued economic expansion is key to the region's overall growth In the Chinese Zodiac, 2012 is the Year of the Water Dragon - marking a year of transition, uncertainty and change.
Tibetan student 'killed in third Sichuan, China clash'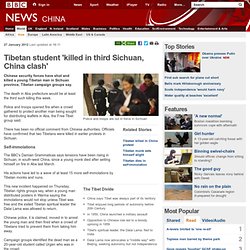 27 January 2012 Last updated at 16:11 GMT Police and troops are out in force in Sichuan Chinese security forces have shot and killed a young Tibetan man in Sichuan province, Tibetan campaign groups say. The death in Aba prefecture would be at least the third such killing this week. Police and troops opened fire when a crowd gathered to protect another man being sought for distributing leaflets in Aba, the Free Tibet group said.
Viewpoint: Are Tibet burnings plot or policy failure?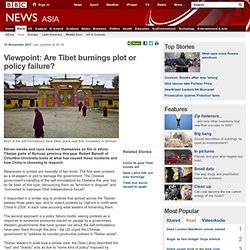 15 November 2011 Last updated at 19:18 ET Most of the self-immolations have taken place near Kirti monastery in Sichuan Eleven monks and nuns have set themselves on fire in ethnic Tibetan parts of Sichuan province this year. Robert Barnett of Columbia University looks at what has caused these incidents and how China is choosing to respond. Responses to protest are basically of two kinds. The first sees protests as a stratagem or plot to damage the government.
Oblicza Chin - Absolwenci (dokument )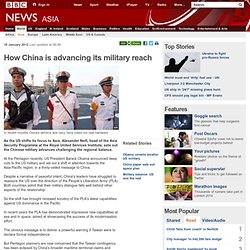 How China is advancing its military reach
17 January 2012 Last updated at 19:30 ET In recent months China's airforce and navy have rolled out new hardware As the US shifts its focus to Asia, Alexander Neill, head of the Asia Security Programme at the Royal United Services Institute, sets out the Chinese military advances challenging the regional balance. At the Pentagon recently, US President Barack Obama announced deep cuts to the US military and set out a shift in attention towards the Asia-Pacific region, in a thinly-veiled message to China.
15 December 2011 Last updated at 12:11 ET The Chinese character "kong" generally means "control". The Chinese character "kong" has been chosen as character of the year for 2011. More than two million internet users took part in the selection, say the organisers of the state-backed poll. Kong generally means "control" and replaces 2010's "zhang" which means "price hikes".
Kong, or 'control', is character of the year in China