Groupon news
Groupon Starts China Service; Tencent, Alibaba's Jack Ma Among Investors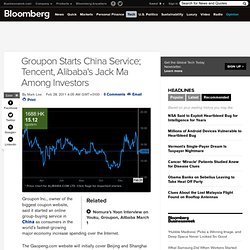 Groupon Inc., owner of the biggest coupon website, said it started an online group-buying service in China as consumers in the world's fastest-growing major economy increase spending over the Internet. The Gaopeng.com website will initially cover Beijing and Shanghai before expanding to other major Chinese cities, Chicago-based Groupon said in an e-mailed statement today. Tencent Holdings Ltd ., China's biggest Internet company, and Yunfeng Capital , a private equity fund started by Alibaba Group Holding Ltd. Chairman Jack Ma, are other investors in Gaopeng, according to the statement, which didn't provide details of the shareholding. Enlarge image The Groupon Inc.
Green, that is, as in greenbacks, bucks, samoleans, moolah, lucre, bread, lettuce or dough. Contests and sweepstakes with large cash prizes are becoming more popular among marketers and media companies that seek to capture the attention of consumers who are still worried about the economy. The trend began soon after the start of the recession in late 2007 and a year later had attracted the likes of Frito-Lay, and . The jackpots seem to have grown since then, as evidenced by a recent contest sponsored by the SoBe Lifewater line of beverages sold by a unit of . The contest, centered on the men's national college basketball tournament, offered a first prize of $9 million — paid out over 40 years, but still, $9 million. Another seven-figure sum is being dangled in the Reese's Loves You Back sweepstakes, sponsored by the Reese's candy brand sold by the .
Advertising - Using Cash to Entice Consumers in Hard Times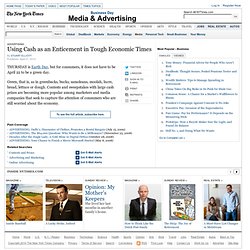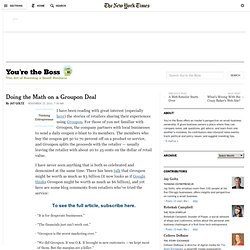 I have been reading with great interest (especially here ) the stories of retailers sharing their experiences using Groupon . For those of you not familiar with Groupon, the company partners with local businesses to send a daily coupon e-blast to its members. The members who buy the coupon get 50 to 70 percent off on a product or service, and Groupon splits the proceeds with the retailer — usually leaving the retailer with about 20 to 25 cents on the dollar of retail value.
Is Groupon Good for a Small Business? Do the Math
I'm frequently asked how Groupon chooses which businesses to feature. Variety is obviously important—part of what makes Groupon fun is the mix of business types and neighborhoods. And of course, we make sure we're offering the best price out there.
The Groupon Promise « Groublogpon – The Serious Blog of Groupon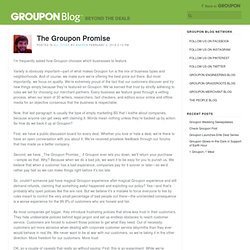 Recently, a discount for eyelash extensions that a tiny beauty salon here offered through Groupon generated enough business to keep the salon's staff booked through May. Groupon, which has confidently spurned a $6 billion takeover offer from , is not just a phenomenon in America. The deal-sharing service has found fertile ground in Japan, catching on even in places like Niigata that typically go unexplored by foreign corporations. But if Groupon's rapid rise in this country indicates the universal appeal of a good deal — 5.6 million people in Japan used Groupon in November — the young company's performance is also exposing the difficulties of its simultaneous expansion at home and overseas.
Groupon in Japan Faces Growing Pains
The first business Mr. Lefkofsky started, StarBelly, made tools for building Web sites; he sold it in 2000 for $240 million. He then started two companies that have since gone public — InnerWorkings , which provides printing capabilities over the Web, and Echo Global Logistics , a transportation and logistics outsourcing business he founded with a law school friend, Brad Keywell. He also founded MediaBank , which helps companies buy advertising.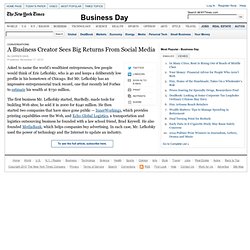 Eric Lefkofsky, Groupon Backer, on Why Social Media Is Hot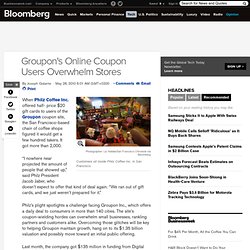 Groupon's Online Coupon Users Overwhelm Stores
When Philz Coffee Inc. offered half- price $20 gift cards to users of the Groupon coupon site, the San Francisco-based chain of coffee shops figured it would get a few hundred takers. It got more than 2,000. "I nowhere near projected the amount of people that showed up," said Philz President Jacob Jaber, who doesn't expect to offer that kind of deal again. "We ran out of gift cards, and we just weren't prepared for it." Customers sit inside Philz Coffee Inc. in San Francisco.