Mauriziom111
Traduzione - Dizionario : Italiano Inglese Francese Spagnolo
Luhmann's Zettelkasten method | Pile of Index Cards
Niklas Luhmann is German sociologist. In the following movie, he introduced his card systems "Zettelkasten (= slip box)" that supports his productivity. What is impressive for me, as a PoICer, are, - thinner paper than index cards - larger than 5×3 size, (according to " Taking Note ", it is A6 size) - seems free format, - seems don't care the order (more loose than chronological order) This IS extreme case of index cards productivity.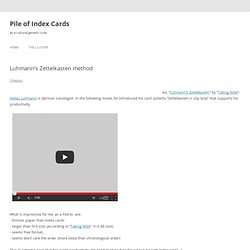 Network Visualisation
What Copernic Desktop Search will do for you?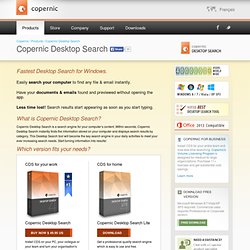 Desktop Search - The best desktop search tool
Chi Sono Tutte Queste Persone?! - waatp.it
MillionShort
GoldenMap - Mindmaping de World