maulkin
Lisa
43 yo widow with kid...games in CoX/GR.
Get flash to fully experience Pearltrees
For a reprint of Mathers' edition, see listing at Amazon.com INTRODUCTION by Joseph H. Peterson. The Key of Solomon is the most famous and important of all Grimoires, or handbooks of Magic. As A.E. Waite has stated ( BCM , pg. 58) "At the head of all, and, within certain limits, the inspiration and the source of all, stands the Key of Solomon . ...
The above is a single pair of binds from the set of 5 (or 10) that you need to implement automatic cycling of the four "Prestige Sprints" you get as a Veteran's Reward. With 4 cool sprinting animations to choose from, plus the basic Sprint, there's no reason to pick just one. Each bind resides in its own sub-bindfile. When you press CTRL+R to cycle the sprint mode, it activates the currently selected mode and then loads a bindfile fragment to overwrite the command, ready for the next toggle. Each time you press CTRL+R, you'll get a different sprint animation. You can cycle them while moving, a great showoff move.
From Paragon Wiki Overview Emotes are short animations a player can use to express various body-language signals in-game.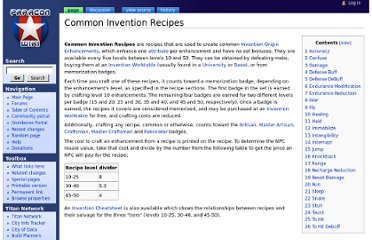 From Paragon Wiki Common Invention Recipes are recipes that are used to create common Invention Origin Enhancements , which enhance one attribute per enhancement and have no set bonuses. They are available every five levels between levels 10 and 50. They can be obtained by defeating mobs, buying them at an Invention Worktable (usually found in a University or Base ), or from memorization badges. Each time you craft one of these recipes, it counts toward a memorization badge, depending on the enhancement's level, as specified in the recipe sections.
Are you about to give up? Just can't find the right colors for your page? Well, here is the solution for you! Spin the color wheel and get a selection of three random colors. The color wheel randomizes among some 16 million colors. And since each spin produces three different colors, that gives endless combinations.
Scott to Bomber: You thought you'd serve me a Manhattan, maybe two, and take me out in the back and fuck me, just like old times? … *pulls out a hundred dollar bill* This should cover all the drinks you've served me. Now we're even. … I'm not going to hit you.