Start-ups financials!
Paul Graham- How to fud a start-up? November 2005 Venture funding works like gears.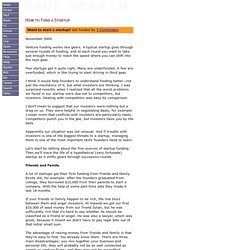 A typical startup goes through several rounds of funding, and at each round you want to take just enough money to reach the speed where you can shift into the next gear. Few startups get it quite right. Many are underfunded. A few are overfunded, which is like trying to start driving in third gear. Venture Capital Deal Algebra. Fred Wilson wrote a useful post on valuation today.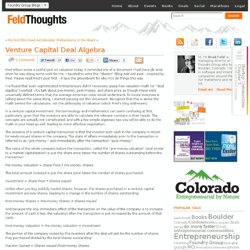 It reminded me of a document I had Dave Jilk write when he was doing some work for me. I decided to write this "bladon" (Blog Add-on) post – inspired by Fred. Please read Fred's post first – it lays the groundwork for why VCs do things this way. Term Sheet: Price - Mozilla Firefox. A the end of the year, I completed a financing that was much more difficult than it needed to be.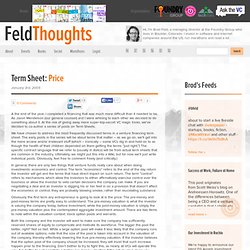 As Jason Mendelson (our general counsel) and I were whining to each other we decided to do something about it. At the risk of giving away more super-top-secret VC magic tricks, we've decided to co-author a series of posts on Term Sheets. Venture Capital Deal Algebra. Unnamed. There's this dance that entrepreneurs and venture capitalists do when it comes time to negotiate the economic terms of an investment.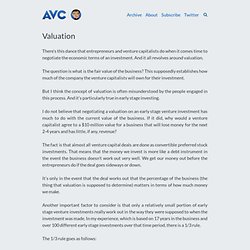 And it all revolves around valuation. The question is what is the fair value of the business? This supposedly establishes how much of the company the venture capitalists will own for their investment. How Many Shares Should a Startup Company Authorize at Incorporat. An often overlooked aspect of filing a certificate of formation or articles of incorporation is determining how many shares the new corporation should authorize.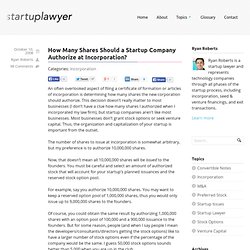 This decision doesn't really matter to most businesses (I don't have a clue how many shares I authorized when I incorporated my law firm), but startup companies aren't like most businesses. Most businesses don't grant stock options or seek venture capital. Thus, the organization and capitalization of your startup is important from the outset. How do you calculate Series A price per share? : Startup Company. Browse > Home / Series A / How do you calculate Series A price per share?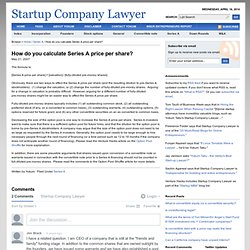 The formula is: [Series A price per share] = [valuation] / [fully-diluted pre-money shares] What is preferred stock and why is it issued to investors? : Sta. Browse > Home / Series A / What is preferred stock and why is it issued to investors?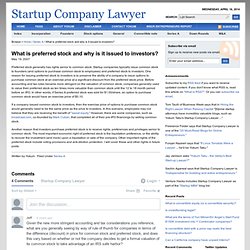 Preferred stock generally has rights senior to common stock. Startup companies typically issue common stock to founders (and options to purchase common stock to employees) and preferred stock to investors. One reason for issuing preferred stock to investors is to preserve the ability of a company to issue options to purchase common stock at an exercise price at a significant discount from the preferred stock price. Before accounting and tax rules became more stringent on the valuation of common stock, companies generally used to value their preferred stock as ten times more valuable than common stock until the 12 to 18 month period before an IPO.
---