PrivateSales Press Review
Former Martha Stewart CEO Susan Lyne To Run New York Startup Gil. US Media Discovers European Shop. American online media is starting now to exposé the European shopping club phenomenon which now beginning to get a foothold in the US market.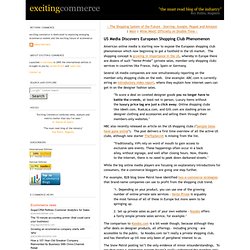 The shopping concept is growing in importance in the US, whereby in Europe there are dozens of such "Vente-Privée" (private sales, member-only shopping club) services in countries like France, Italy, Spain or Germany. Several US media companies are now simultaneously reporting on the member-only shopping clubs on the web. One example: ABC.com is currently airing an introductory video report, where they explain how internet users can get in on the designer fashion sales. "To score a deal on coveted designer goods you no longer have to battle the crowds, at least not in person. Private Shopping Clubs Combine Discounts With Luxury (We Have On. Thanks to a surge of consumers looking for deals in the recessionary economy, private online sample sales, which offer highly discounted merchandise from luxury retailers looking to unload excess inventory, is becoming a fast-growing business.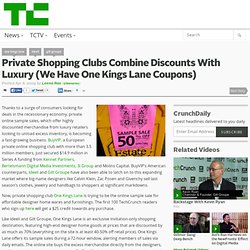 BuyVIP, a European private online shopping club with more than 3.5 million members, just secured $14.9 million in Series A funding from Kennet Partners, Bertelsmann Digital Media Investments, 3i Group and Molins Capital. BuyVIP's American counterparts, Ideeli and Gilt Groupe have also been able to latch on to this expanding market where big-name designers like Calvin Klein, Zac Posen and Givenchy sell last season's clothes, jewelry and handbags to shoppers at significant markdowns. Now, private shopping club One Kings Lane is trying to be the online sample sale for affordable designer home wares and furnishings. The first 100 TechCrunch readers who sign up here will get a $25 credit towards any purchase. Shopping 2.0: How to Target a Niche & Create Community - ReadWri.
Yesterday our regular podcast show, RWW Live, was on the topic of 'shopping 2.0'.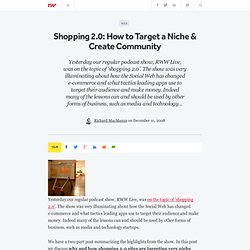 The show was very illuminating about how the Social Web has changed e-commerce and what tactics leading apps use to target their audience and make money. Indeed many of the lessons can and should be used by other forms of business, such as media and technology startups. The Rebirth Of The Sample Sale. Sample sales are an amazing resource for marked down goods for both mainstream and luxury brands.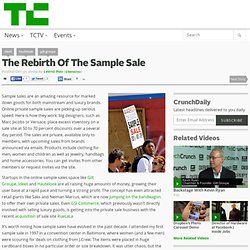 Online private sample sales are picking up serious speed. Here is how they work: big designers, such as Marc Jacobs or Versace, place excess inventory on a sale site at 50 to 70 percent discounts over a several day period. The sales are private, available only to members, with upcoming sales from brands announced via emails. Private-Sale Sites Bring Luxury Goods to Bargain Shoppers - NYTi. Kleiner Perkins Joins the Private Sale Rush - Bits Blog - NYTime. Private, limited-time sale sites have become one of the most popular ways to shop online, as Jenna Wortham and I write about in Monday's Times.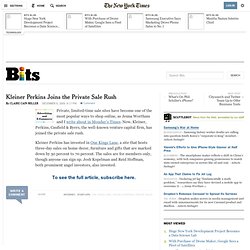 Now, Kleiner, Perkins, Caufield & Byers, the well-known venture capital firm, has joined the private sale rush. Kleiner Perkins has invested in One Kings Lane, a site that hosts three-day sales on home decor, furniture and gifts that are marked down by 50 percent to 70 percent. The sales are for members only, though anyone can sign up. Blue Nile's Co-Founder Starts a Private-Sale Site - Bits Blog - Limited-time sales are the latest trend in e-commerce, as Jenna Wortham and I wrote earlier this month.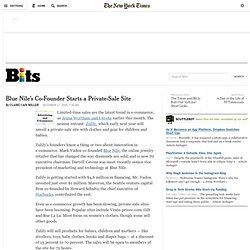 The newest entrant: Zulily, which early next year will unveil a private-sale site with clothes and gear for children and babies. Zulily's founders know a thing or two about innovation in e-commerce. Mark Vadon co-founded Blue Nile, the online jewelry retailer that has changed the way diamonds are sold, and is now its executive chairman. Darrell Cavens was most recently senior vice president of marketing and technology at Blue Nile. Amazon and Vente-Privee in talks over 2 billion Euro acquisition. [France] US retailing giant Amazon is in deep and secret negotiations with Vente-Privee, the French private sales club which has taken the ecommerce and fashion industries by storm, our sources say.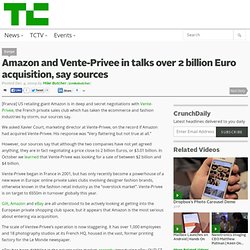 We asked Xavier Court, marketing director at Vente-Privee, on the record if Amazon had acquired Vente-Privee. His response was "Very flattering but not true at all." However, our sources say that although the two companies have not yet agreed anything, they are in fact negotiating a price close to 2 billion Euros, or $3.01 billion. Spring Fashion 2010 - Is Gilt Groupe Good or Bad for Fashion? -- The wave rolls in every day at noon Manhattan time.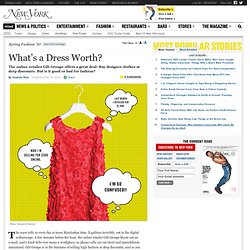 It gathers invisibly, out in the digital netherscape. A few minutes before the hour, the online retailer Gilt Groupe blasts out an e-mail, and a hush falls over many a workplace, as phone calls are cut short and spreadsheets minimized. Gilt Groupe is in the business of selling high fashion at deep discounts, and as you might deduce from the company's name, with its Frenchified "e," it presents itself as an exclusive club. In reality, that's just artifice—Gilt is a viral-marketing phenomenon. During the hour after its weekday sales kick off, between noon and 1 p.m., the company claims, its site is visited by an average of roughly 100,000 shoppers. Vente Privée vise 850 millions d'euros de revenus en 2010 - Jour.
En croissance de 33 % en 2009, l'e-commerçant vise les 850 millions de chiffre d'affaires HT en 2010.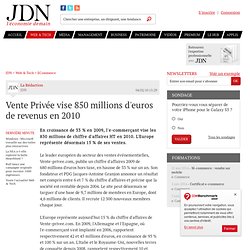 L'Europe représente désormais 15 % de ses ventes.Le leader européen du secteur des ventes événementielles, Vente-privee.com, publie un chiffre d'affaires 2009 de 680 millions d'euros hors taxe, en hausse de 33 % sur un an. Son fondateur et PDG Jacques-Antoine Granjon annonce un résultat net compris entre 6 et 7 % du chiffre d'affaires et précise que la société est rentable depuis 2004. Le site peut désormais se targuer d'une base de 9,7 millions de membres en Europe, dont 4,6 millions de clients.
Private sales.
---