Static
Article Archive. Peter's Evil Overlord List. This Evil Overlord List is Copyright 1996-1997 by Peter Anspach.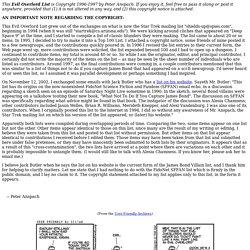 If you enjoy it, feel free to pass it along or post it anywhere, provided that (1) it is not altered in any way, and (2) this copyright notice is attached. This Evil Overlord List grew out of the exchanges on what is now the Star Trek mailing list "shields-up@spies.com", beginning in 1994 (when it was still "startrek@cs.arizona.edu"). We were kicking around cliches that appeared on "Deep Space 9" at the time, and I started to compile a list of classic blunders they were making. The list came to about 20 or so items. February Top Picks.
Some of the best stuff from around the web and the Cracked.com Mirth Canal.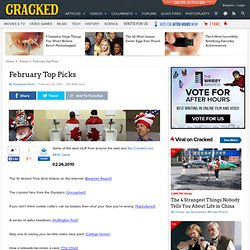 The 10 Sickest Trick Shot Videos on the Internet: [Bleacher Report] The craziest fans from the Olympics: [Uncoached] If you don't think cookie cutters can be badass then shut your face you're wrong: [TopCultured] A series of awful headlines: [Huffington Post] Longmire does Romance Novels. Baby Manual · Colin Seymour.
---