Fanfiction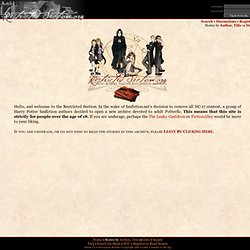 Hello, and welcome to the Restricted Section. In the wake of fanfiction.net's decision to remove all NC-17 content, a group of Harry Potter fanfiction authors decided to open a new archive devoted to adult Potterfic. This means that this site is strictly for people over the age of 18. If you are underage, perhaps the The Leaky Cauldron or FictionAlley would be more to your liking. If you are underage, or do not wish to read the stories in this archive, please Leave By Clicking Here.
RestrictedSection.org
adult-fanfiction.org is not in any way associated with or related to FanFiction.Net The views, activities, and lifestyles portrayed in these fictional not-for-profit stories in no way reflect the opinion, activities, or lifestyle of the WebMasters or the majority of the AFF Community. Each original story's copyright is held by the Author of the story and you should contact that Author with any questions or comments on their work.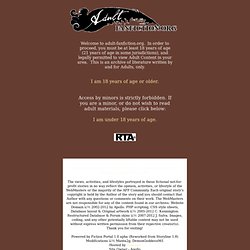 The Petulant Poetess :: Fiction Archive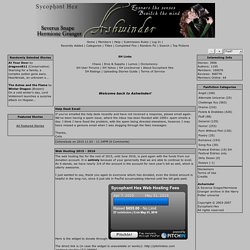 Ashwinder :: To bewitch the mind and ensnare the senses
Morning Rite by Helena Rickman (Conservative) Earth, water, wind and fire combine to create a surreal moment.... The Purloined Revenge by Helena Rickman (Conservative) Hermione is in a dark place. Snape thinks he is rescuing her from it, but ... Dark Veela by kittyperry (Conservative) Severus Snape lies dying in the Shrieking Shack when he sees a vision of hi...
Home - Sycophant Hex
Sycophant Hex is a site for quality Harry Potter fanfiction, and we are delighted to provide this service to you free of charge. Though our character-centric categories focus on the Harry Potter universe, our Chaos archive also welcomes other fandom works and original pieces. All work submitted is screened by a team of Administrators, helping Sycophant Hex to maintain its reputation for readability in the world of fanfiction.