Books
Home | Prairie Lights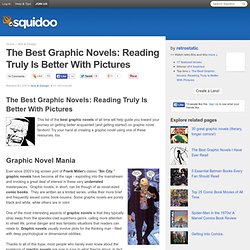 Ever since 2005's big screen port of Frank Miller's classic "Sin City," graphic novels have become all the rage - exploding into the mainstream and invoking a great deal of interest in these very underrated masterpieces. Graphic novels, in short, can be though of as novel-sized comic books. They are written as a limited series, unlike their more brief and frequently issued comic book cousins. Some graphic novels are purely black and white, while others are in color.
The Best Graphic Novels: Reading Truly Is Better With Pictures
If you're interested in reviewing children's and young adult books email emily@childrenslit.com. J. D. Salinger (January 1)Jean Urer (January 1)Barbara Williams (January 1)Isaac Asimov (January 2)Crosby Bonsall (January 2)Jean Little (January 2)Alma Flor Ada (January 3)Patricia Lee Gauch (January 3) Carolyn Haywood (January 3) J.
Children's Literature Comprehensive Database