Society
The shocking truth about the crackdown on Occupy | Naomi Wolf. US citizens of all political persuasions are still reeling from images of unparallelled police brutality in a coordinated crackdown against peaceful OWS protesters in cities across the nation this past week.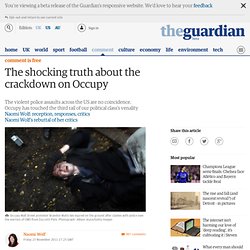 An elderly woman was pepper-sprayed in the face; the scene of unresisting, supine students at UC Davis being pepper-sprayed by phalanxes of riot police went viral online; images proliferated of young women – targeted seemingly for their gender – screaming, dragged by the hair by police in riot gear; and the pictures of a young man, stunned and bleeding profusely from the head, emerged in the record of the middle-of-the-night clearing of Zuccotti Park. But just when Americans thought we had the picture – was this crazy police and mayoral overkill, on a municipal level, in many different cities?
– the picture darkened. UK urged to prevent vulture funds preying on world's poorest countries | Global development. Britain is being urged to help close down a legal loophole that lets financiers known as "vulture funds" use courts in Jersey to claim hundreds of millions of pounds from the world's poorest countries.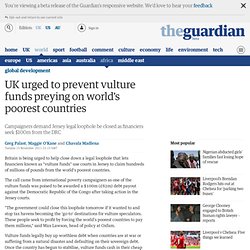 The call came from international poverty campaigners as one of the vulture funds was poised to be awarded a $100m (£62m) debt payout against the Democratic Republic of the Congo after taking action in the Jersey courts. "The government could close this loophole tomorrow if it wanted to and stop tax havens becoming the 'go-to' destinations for vulture speculators. These people seek to profit by forcing the world's poorest countries to pay them millions," said Max Lawson, head of policy at Oxfam. Vulture funds legally buy up worthless debt when countries are at war or suffering from a natural disaster and defaulting on their sovereign debt. Chav: the vile word at the heart of fractured Britain | Polly Toynbee. That word slips out.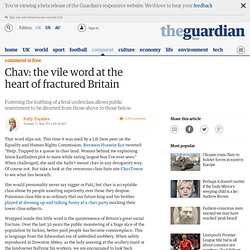 This time it was used by a Lib Dem peer on the Equality and Human Rights Commission. Baroness Hussein-Ece tweeted: "Help. The call to occupy Wall Street resonates around the world | Micah White and Kalle Lasn. People protest during the 'Occupy Wall Street' rally at Bowling Green Plaza on 17 September.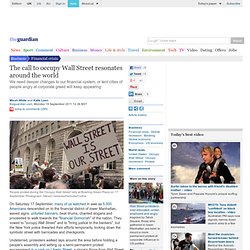 Photograph: Steven Greaves/Demotix/Corbis On Saturday 17 September, many of us watched in awe as 5,000 Americans descended on to the financial district of lower Manhattan, waved signs, unfurled banners, beat drums, chanted slogans and proceeded to walk towards the "financial Gomorrah" of the nation. They vowed to "occupy Wall Street" and to "bring justice to the bankers", but the New York police thwarted their efforts temporarily, locking down the symbolic street with barricades and checkpoints. Undeterred, protesters walked laps around the area before holding a people's assembly and setting up a semi-permanent protest encampment in a park on Liberty Street, a stone's throw from Wall Street and a block from the Federal Reserve Bank of New York. Trial tests whether 'ecocide' could join genocide as global crime | Environment.
Link to video: Mock 'ecocide' trial Update: Two verdicts of guilty, one not guilty: that was the conclusion of the mock ecocide trial (details below) held at the UK's supreme court on 30 September.
Real lawyers, judges and a public jury found the CEOs of fictional fossil fuel companies guilty of "extensive destruction, damage to or loss of ecosystem(s) to such an extent that the peaceful enjoyment by the inhabitants of that territory, and of other territories, has been severely diminished", as a result of their company's extraction of oil from tar sands in Canada. The jury found one of the CEOs not guilt on the count of damage caused by an oil spill in the Gulf of Mexico.
---