Technology
WIMM Labs.
Dwolla. Ben Milne founded Dwolla There's a tiny 12-person startup churning out of Des Moines, Iowa.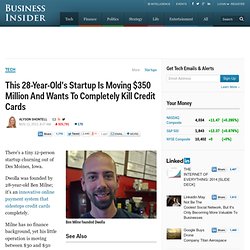 Dwolla was founded by 28-year-old Ben Milne; it's an innovative online payment system that sidesteps credit cards completely. 13 Tech Tools for a Paper-Free Life. Gartner: The top 10 strategic technology trends for 2012. Network World - ORLANDO -- The technology that makes up many of the systems in the IT world today is at a critical juncture and in the next five years everything from mobile devices and applications to servers and social networking will impact IT in ways companies need to prepare for now, Gartner Vice President David Cearley says.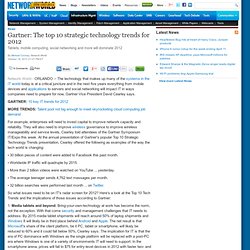 GARTNER: 10 key IT trends for 2012 MORE TRENDS: Talent pool not big enough to meet skyrocketing cloud computing job demand For example, enterprises will need to invest capital to improve network capacity and reliability. The ZIIRO Celeste Watch Teaches You Color Mixing. If there's one thing missing from modern watches it's color.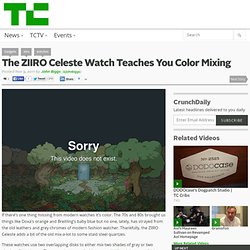 The 70s and 80s brought us things like Doxa's orange and Breitling's baby blue but no one, lately, has strayed from the old leathers and grey chromes of modern fashion watcher. Thankfully, the ZIIRO Celeste adds a bit of the old mix-a-lot to some staid steel quartzes. These watches use two overlapping disks to either mix two shades of gray or two shades of blue/green. These watches are called "mystery dials" and they were fairly common a few decades ago. However, with the improvements in translucent plastic and metal casing, these are a far cry from the watches worn by proto-sci-fi writers on the town in 1960s Connecticut.
Boost Your WiFi Signal Using Only a Beer Can. I love a good hack, especially one that requires me to throw back a cold one before hand (or during).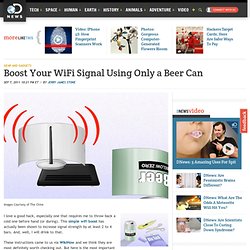 This simple wifi boost has actually been shown to increase signal strength by at least 2 to 4 bars. And, well, I will drink to that. Eric Schmidt Is Right: Google's Glory Days Are Numbered. Editor's note: Guest contributor Dan Kaplan leads Product Marketing for Twilio and writes occasionally about the extrapolation of the present into the future.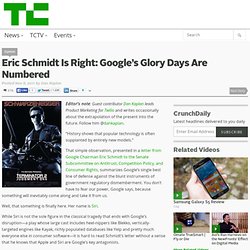 Follow him @dankaplan. "History shows that popular technology is often supplanted by entirely new models." That simple observation, presented in a letter from Google Chairman Eric Schmidt to the Senate Subcommittee on Antitrust, Competition Policy, and Consumer Rights, summarizes Google's single best line of defense against the blunt instruments of government regulatory dismemberment. And Here It Is: The New Google Reader Revealed. Today, Google is rolling out its update to Google Reader which features the promised user interface overhaul, and, more importantly, the new Google+ integration.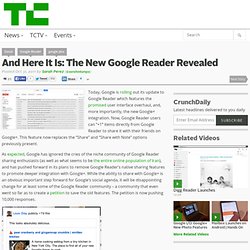 Now, Google Reader users can "+1″ items directly from Google Reader to share it with their friends on Google+. This feature now replaces the "Share" and "Share with Note" options previously present. As expected, Google has ignored the cries of the niche community of Google Reader sharing enthusiasts (as well as what seems to be the entire online population of Iran), and has pushed forward in its plans to remove Google Reader's native sharing features to promote deeper integration with Google+.
While the ability to share with Google+ is an obvious important step forward for Google's social agenda, it will be disappointing change for at least some of the Google Reader community – a community that even went so far as to create a petition to save the old features. The petition is now pushing 10,000 responses. Incoming: A Native Gmail iPhone App. Finally. Ever since I bought the original iPhone in 2007, there's been one app above all others that I've been sorely missing: Gmail.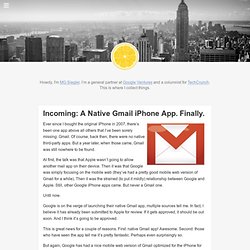 Of course, back then, there were no native third-party apps. But a year later, when those came, Gmail was still nowhere to be found. At first, the talk was that Apple wasn't going to allow another mail app on their device. Then it was that Google was simply focusing on the mobile web (they've had a pretty good mobile web version of Gmail for a while). Then it was the strained (to put it mildly) relationship between Google and Apple. Why Is It Still Web 2.0? Web 2.0 Summit went down in SF this week and, with the exception of a few speakers who ducked out because of pre-IPO jitters, a good portion of upper echelon Internet notables were there, including final speaker and Web 3.0 proponent Reid Hoffman.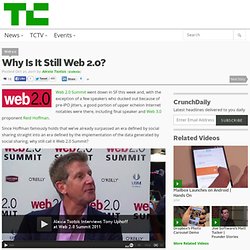 Since Hoffman famously holds that we've already surpassed an era defined by social sharing straight into an era defined by the implementation of the data generated by social sharing, why still call it Web 2.0 Summit? Curious, I spoke to Techweb CEO Tony Uphoff about a potential change in nomenclature for the conference, "What's happened is that this particular event has become a brand," he responded, "The average person that attends this doesn't stop to think of Web 2.0 as a technical term — they think that this has become the gathering place for the Internet economy."
---