Cloud Computing
HuffPost Live
jmayfield56 : My Favorite @Salesforce #C
Happy Holidays from Internet Creations
Salesforce - Company - San Francisco, CA - Cloudforce New York
The Hijacking of PaaS: Time for Cloud Runtimes
With 9th Cloud Expo - Cloud Expo Silicon Valley - still in full swing at the Santa Clara Convention Center in California, what is being said about the future landscape of cloud computing?
The Future of Cloud Computing: Industry Predictions for 2012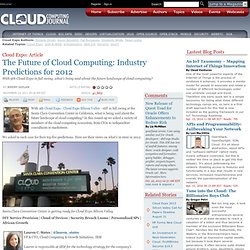 Workday looks to put a bomb under SAP and Oracle duopoly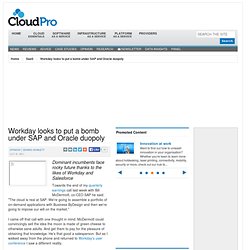 Towards the end of my quarterly earnings call last week with Bill McDermott, co-CEO SAP he said: "The cloud is real at SAP. We're going to assemble a portfolio of on-demand applications with Business ByDesign and then we're going to impose our will on the market." I came off that call with one thought in mind.
Video - Cloud Computing Gets Personal