Tools 3
Sentenc.es: A Disciplined Way To Deal With Email
No Close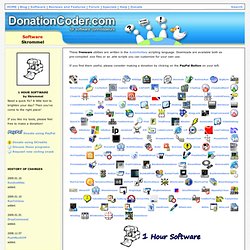 LiPs v1.2 - 1KB
Post written by Leo Babauta . Follow me on Twitter . I've been procrastinating a lot lately.
Dead Simple Guide to Beating Procrastination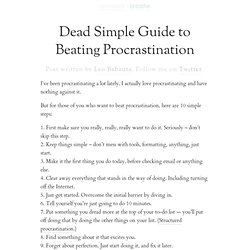 Live Mesh
iTunes University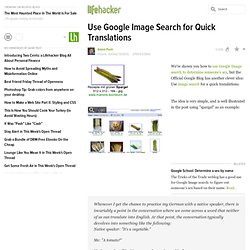 Use Google Image Search for Quick Translations
We've shown you how to use Google Image search to determine someone's sex , but the Official Google Blog has another clever idea: Use image search for a quick translations. The idea is very simple, and is well illustrated in the post using "spargel" as an example: Whenever I get the chance to practice my German with a native speaker, there is invariably a point in the conversation where we come across a word that neither of us can translate into English.
These days you can find all sorts of things online, from audio books to flash files, from sound effects to CSS templates. Studies show that nice guys finish first in business world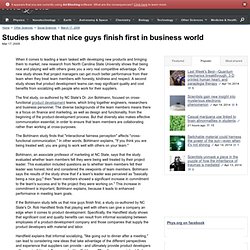 When it comes to leading a team tasked with developing new products and bringing them to market, new research from North Carolina State University shows that being nice and playing well with others gives you a very real competitive advantage.
Enable Readability Statistics for Office Documents
Automatic Save Folder
WinRoll 2.0
Make a window roll into its title bar, send it to the back or make it stay on top.
Writespace
DesktopCoral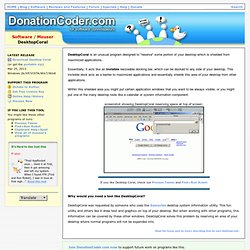 DesktopCoral is an unusual program designed to "reserve" some portion of your desktop which is shielded from maximized applications.. Essentially, it acts like an invisible resizeable docking bar, which can be docked to any side of your desktop. This invisible dock acts as a barrier to maximized applications and essentially shields this area of your desktop from other applications.
Features
Wallpaper Rotator
Thumbnails & Labels
Kill Tools Terminates Windows Processes With Ease
Exclusive Lifehacker download for Windows only: Kill Tools terminates running processes from the keyboard with a set of hotkey-triggered kill functions that can kill windows by name, title, or more.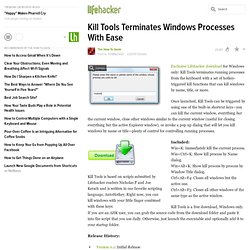 Process Manager
Track This: Modern Package Tracking
Coffee Break Computer
20 Tech Habits to Improve Your Life
Autofocus System (Get Everything Done)
The Autofocus Time Management System Chinese (Simplified Characters) Version (off-site) Chinese (Traditional Characters) Version (off-site) Czech Version (off-site) Dutch Version Finnish Version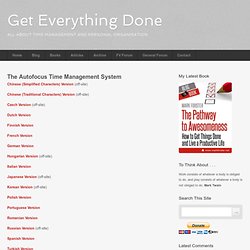 Simple Tracking
Overview Open++ is a context menu shell extension that allows you to quickly open the selected files or folders with the customized commands. It adds a submenu with customized menu items to the shell context menu when right clicking files or folders in Windows Explorer.
Open++
OpenWithView
Related Tools FileTypesMan - File Types Manager for Windows.
Ghoster
Rainlendar
Rainmeter Skins at Customize.org
Taskbar Shuffle
Easy Ways to Track Holiday Flights
Cool Trick: Making Miniature Calendars for your Away Messages
NexusFile
Download Mover
QuoteURL Text
3 More Tools to Bring Power to the Right Click Menu
MMM free
Microsoft Office Add-in for YouSendIt
Firefox Extensions: Fast Dial