Tools 2
WinSplit Revolution. Prezi: The zooming presentation editor. Tom's Planner. MS Project can use some competition, for sure.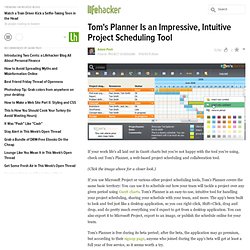 It has a lot of capabilities, but the overall app has stagnated for some years now. If these guys or Google can come up with a better way to build a project management app I'll be a charter member. As a PMP I work with MS Project everyday. Chart junk? How pictures may help make graphs better. Wednesday, November 4, 2009 Those oft-maligned, and highly embellished, graphs and charts in USA Today and other media outlets may actually help people understand data more effectively than traditional graphs, according to new research from North Carolina State University.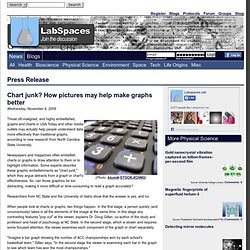 Newspapers and magazines often embellish charts or graphs to draw attention to them or to highlight information. Some experts describe these graphic embellishments as "chart junk," which they argue detracts from a graph or chart's effectiveness. So, can those graphics be too distracting, making it more difficult or time-consuming to read a graph accurately? Researchers from NC State and the University of Idaho show that the answer is yes, and no. Readability Bookmarklet (Take 2) Formerly known as "Readability 2," this project uses code unceremoniously lifted from the original Readability.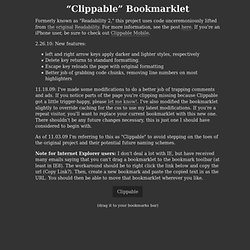 For more information, see the post here. If you're an iPhone user, be sure to check out Clippable Mobile. How do I backup my Outlook 2007 Shortcuts. Send it later. Outlook has in-built support for sending emails at a later date or time, but I've had very inconsistent results when using it.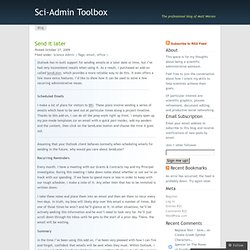 As a result, I purchased an add-on called SendLater, which provides a more reliable way to do this. It even offers a few more extra features. I'd like to show how it can be used to solve a few recurring administrative issues. Scheduled Emails I make a lot of plans for visitors to BRI. Tintii photo filter.
FolderSize. Seven Guidelines for Writing Worthy Works of Non-Fiction. I try to write the kind of books I'd like to read, and I try to read the kind of books I'd like to write.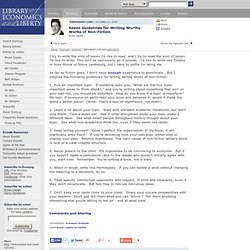 This isn't as narcissistic as it sounds. I'd like to write like Tolstoy or Alan Moore or Steve Landsburg, but I have to settle for being me. It's Just Fancy Talk. Google Wave Here's a little story to show just how thoroughly Google's long-awaited chatting tool, called Google Wave , can kill your mood to chat: The other day, I was "waving" with Zach Frechette, the editor of magazine.
Naturally, we were talking about the new site's merits and flaws. As we went back and forth, I had a tiny epiphany. Online OCR. Theme Builder. NirLauncher (beta) Notice: The latest version of NirLauncher package is now available at As I promised a few weeks ago, the Beta version of NirLauncher, with a package of more than 100 utilities of NirSoft, is available to download.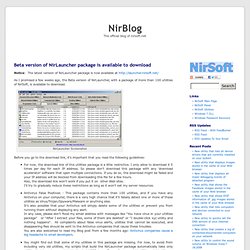 NirLauncher Screenshot Before you go to the download link, it's important that you read the following guidelines: Converber Unit Converter. Bind Papers Together Without Staples or Clips. Google's Book Search: A Disaster for Scholars. By Geoffrey Nunberg Whether the Google books settlement passes muster with the U.S.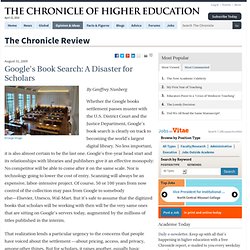 District Court and the Justice Department, Google's book search is clearly on track to becoming the world's largest digital library. No less important, it is also almost certain to be the last one. Google's five-year head start and its relationships with libraries and publishers give it an effective monopoly: No competitor will be able to come after it on the same scale. Recording your own notes with Google Voice.
OfficeTab (Addon for MS Office) Bulk Rename Utility. Bulk Rename Utility is a free file renaming software for Windows.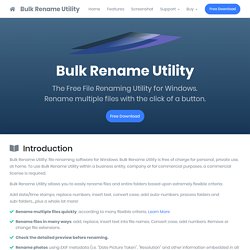 Bulk Rename Utility allows you to easily rename files and entire folders based upon extremely flexible criteria. Add date/time stamps, replace numbers, insert text, convert case, add auto-numbers, process folders and sub-folders....plus a whole lot more! Inefficient Journal Submission Policies. In their instructions to authors just about all of the economics journals require that papers be submitted with a certain format for the references, bibliography, figures and so forth.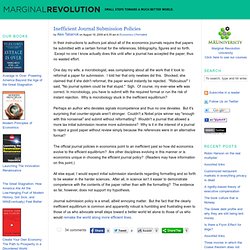 Except no one I know actually does this until after a journal has accepted the paper; thus no wasted effort. One day my wife, a microbiologist, was complaining about all the work that it took to reformat a paper for submission. I told her that only newbies did this. Shocked, she claimed that if she didn't reformat, the paper would instantly be rejected. Send Commands from the Browser's Address Bar. You probably use the address bar in your browser to search web pages. Now learn how to use the address bar to capture screenshots, send emails, download videos or even shorten the URLs.
You are already familiar with quite a few browser address bar shortcuts. ClipChain Copies Multiple Text Strings for Easy Pasting. BlueScreenView. Related Utilities WinCrashReport - Displays a report about crashed Windows application. WhatIsHang - Get information about Windows software that stopped responding (hang) AppCrashView - View application crash information on Windows 7/Vista. WhatInStartup - Enable/Disable/Delete the programs that run at Windows Startup. See Also. How to Create Mouseover in Microsoft Word. Sometimes, when you hover your mouse over a word, phrase or picture in a document or on a website, a small text box will pop up with more information.
You can create this type of "mouseover," called a "ScreenTip," in Microsoft Word. The text box will appear for a brief period when the user holds her mouse over the linked object or text, providing more information. You can use ScreenTips to define an uncommon word or phrase or to give details on a graphic, for example. Producing Forms in Word. SmillaEnlarger. 'Best' for Last? It feels like the 18th century all over again. All that daily correspondence, all those long hours spent hunched over a desk, composing some thoughtful missive about one's dowry or the Jacobite rebellions. Signed, "Yr humble servant. " Same deal now, basically, except (obviously) we're not clutching quills; we're writing a passel of e-mails and clicking send on ye olde BlackBerry until our fingers bleed.
And something else isn't quite the same: Unlike the heroes and heroines of epistolary novels, we aren't blessed with time-tested formal guidance on the correct way to sign off. "Best"? Mail Merge from Outlook. A mail merge allows you to send personalized messages to a large group of people at once without them knowing who else you have sent it to. This is a great way to have bulk messages look more personal, send everybody their own information (like a logon name and password) or send out Christmas cards . There are various ways to do a mail merge and there are various tools available to further simply the process or add even more options. View your desktop as a list. FXConverter. ThumbView. Copy Paste Character.
CopyPasteTool. Outlook Sender's Time Zone - free plugin for Outlook 2007/2. ActiveHotkeys. Keyboard Tweaker. Flipping Typical. Windows Font Explorer 3.6.1. Create Perfect Screenshots at 300dpi. Reduce Your PDF File Sizes. How to Revise an Email So That People Will Read It. Single-Click Restore Point. Contact Help. New Tab King: Firefox extension to get your CTRL+T right.
15 Useful Batch Image Processors. Taylor Design Viewer. OneNote Add-in: Send to OneNote from Outlook.
---