Officesupply
No Gap Locking Round Ring View Binder With Stacked Pockets (3 Ri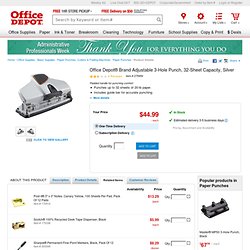 Adjustable 3 Hole Punch 30 Sheet Capacity (Gunmetal Gray)
Office Depot
Memorex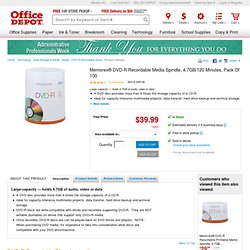 Memorex™ DVD-R Recordable Media Spindle (Pack Of 100)
HP Laserjet 11x17 Paper
Avery Inkjet Labels (Avery #8660, Clear, Box Of 750)
Wausau Cardstock (8 1/2 x 11, 110lb White, Pack of 250)
Avery Laser Business Cards (Avery #5871, White, Pack Of 200)
Avery CD/DVD Laser Labels - Black & White (Avery #5931, Pack
Avery CD DVD Laser Labels - Color Printer (Avery #6692, Pack Of
Brother Model TZ 231 Black on White Tapes (0.5 x 25, Pack of 2)
Memorex™ CD-R Recordable Media Spindle (Pack Of 100)
Velcro Industrial Strength Tape (2 x 15, Black)
Round Ring View Binder (3 Rings, Black)
Office Depot You have not selected any items to share. Please click on Cancel and try again. Your email has been sent.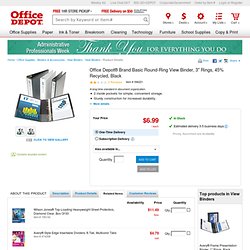 EXPO Point Wet Erase Pens (Assorted Colors, Pack Of 8)
DYMO Model 30252 White Address Labels
ScanSnap S510M Instant PDF Sheet-Fed Scanner
BlackBerry 81654RIM Li-Ion Battery
Lenovo V100 Series 6 Cell Li-lon Battery
Verbatim 200pk Trimpak Clear CD Storage Cases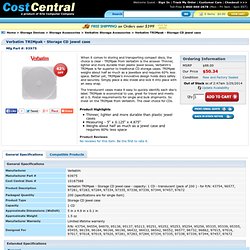 When it comes to storing and transporting compact discs, the choice is clear - TRIMpak from Verbatim is the answer.