read
Get flash to fully experience Pearltrees
As I briefly touched on in this article , the one thing common to every gamer I know is that they all have at least one revolutionary, brilliant, perfect and heartbreakingly unrealized "I Have a Game" concept: some combination of elements, some untapped property or some new direction for a sequel that just never got made, but would shake the gaming world to the core if it did. The single greatest tragedy in gaming isn't what that manipulative bitch Peach is doing to poor Mario's heart; it's that, though we will get endless iterations of Call of Battle: Duty Field from now until the heat death of the universe, we'll never see these masterpieces get made. But fuck that noise: This is the Internet. This is where dreams come true, even (hell, especially ) the awful ones.
Hollywood is filled with plenty of rags to riches stories. Jim Carey worked as a janitor, Demi Moore was a debt collector, Brad Pitt used to wear a chicken suit while handing out fliers and Sharon Stone worked (works?) at a McDonald's.
How many user agreements have you clicked through in your life without reading them? We're going to guess it's one for every single piece of software you've ever used, and every gadget, and Lord knows what else. You've probably signed off on thousands of pages of dense, unread legal jargon in your life. Well, guess what, you've all but signed away your soul. We're not saying that the below companies intend to screw you over.
Typecasting is nothing new in Hollywood; it's not very surprising, seeing as some actors just look and act like the cliched roles they attract. This phenomenon explains why Meg Ryan has never taken a role as a transvestite vampire, and Meatloaf has never been the object of affection in a romantic comedy. But amazingly, some people seem to perform uncannily similar roles over and over, like Groundhog Day , but with less appealing actors.
Hollywood does "original" about as well as it does "geography of the Midwest." Thus, year after year we're treated to films with plots and themes so similar that if the movie business were college, at least a few screenwriters would be taking a trip to the Dean's office. Here are twelve of the most ridiculously similar movies ever to be released within a year of each other, as well as our scientific analysis of which ones sucked, and which ones sucked even worse. Tombstone vs. Wyatt Earp (1993/1994)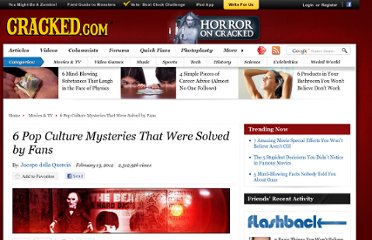 Pop culture is full of unsolved mysteries, like "Was Tony Danza the boss?" "What happened to Tony Danza's career?" and "Is Tony Danza even alive?" Some of them are even unrelated to Tony Danza. And some that we thought would never find an answer finally did, but only through the effort of dedicated fans with way too much time on their hands.
They walk among us! Some even fly among us! They may even take the bus among us from time to time! Homosapiens-Superior is here, and can do things that have scientists scratching their heads. We're carefully tracking their progress, so that one day soon we may gather them together and fight crime. Or maybe commit crimes.
We've all dreamed of having superpowers at some point (today), but the majority of us have to accept the sobering reality that preternatural abilities simply aren't possible. That is, except for some rare cases of real, actual people with bona fide powers that defy explanation (and in some cases practical application). For instance ... #6.
A responsible traveler won't set foot in another country without knowing how to viciously insult the people in their native language. Odds are, you won't even make it out of the airport before a situation arises that requires obscenities. But "obscenity" is an ever-moving target. It's an amalgamation of cultural taboos, the impact of current events and your mom. Accordingly, every country has developed a uniquely beautiful set of curses and insults that set it apart. While some insults are broadly accessible, like your mom, others will require a little background for the new student.
John Cheese returns to the Cracked guest column, and this time he's taking more bullets for us than a bad guy within reach of Bruce Willis during a machine gun battle. First of all, Mr. Cheese is filling in for us on a Saturday while we train for our dark horse bid for the 2008 Olympic Decathlon. Additionally, he's reviewed the ten most revolting celebrity sex tapes ever released, thus saving us the embarrassment of admitting we watched them ourselves. Pamela Anderson and Bret Michaels
Quick: Look to your left, then look to your right. One of those people is a nerd. It's easy to tell which one, just look for the nerd-shaped hole in the universe where a person used to be.