Youtube, Vimeo, TED...
A regular reader of the site, alex, was kind enough to email us the contents of a personal bookmarks folder he curated named 'trippy shit man'. This video was included in those links and, let me assure you, he categorized it correctly. My favorite part is definitely the skiing ostriches. Originally broadcast on January 1st, 2011 between 4:00 and 4:30am (on the reliably awesome [ adult swim ] ) Animals is a strange visual journey indeed. Ten points if you spot the Cyriak . You'll also find Blockhead 's excellent video for their tune 'The Music Scene' in there which was posted here in full HD back in October.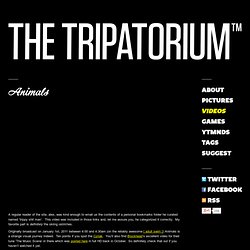 Animals
Broadcast Yourself.
And you thought your year-end PowerPoint -- complete with that snazzy "Ding!" after every slide -- was something to admire. The video below is a Google Demo Slam entrant, going up against a Voice Search piece featuring Maria Sharapova.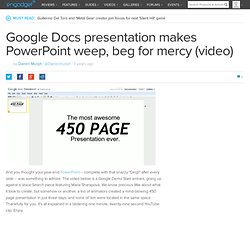 Google Docs presentation makes PowerPoint weep, beg for mercy (video)
Telematics
600 Years - official video HD
3D video mapping projection brings buildings alive.mp4