Review
Explore. Ardex K301 Exterior self smoothing compound 25kg - Wall tiles and floor tiles - The Tile Experience. How to Sell Yourself (with no credentials, no connections, & no money) Last week, at my first live workshop, I invited this guy to give a presentation on selling yourself… …and he KNOCKED IT OUT OF THE PARK.
His name is James Altucher, and he's an american hedge fund manager, entrepreneur, and best-selling author. But what I love most is that he's a CHARACTER. He's got great advice and he's HILARIOUS. (You'll see how he gets his foot in the door… and then in his mouth). Bootstrap WP Plugin - Twitter Bootstrap for your WordPress.
Who's hiring in WordPress? It's always great when people can get hooked up to work together.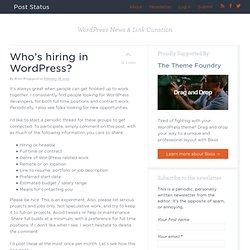 I consistently find people looking for WordPress developers, for both full time positions and contract work. Periodically, I also see folks looking for new opportunities. CMS Tree Page View – Page Management Plugin for Wordpress | Pär Thernström. CMS Tree Page View is a WordPress plugin that adds a CMS-like tree overview of all your pages, like the view often found in a page-focused CMS.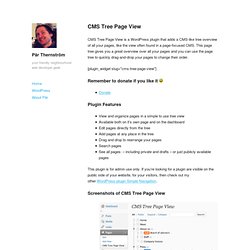 This page tree gives you a great overview over all your pages and you can use the page tree to quickly drag-and-drop your pages to change their order. [plugin_widget slug="cms-tree-page-view"] Remember to donate if you like it Donate. Ten Fingers And A Brain · Comment E-Mail Verification. MediaRSS. Genesis Widgetized Footer. New Flexibility plus Enhanced Webmaster Experience Changing the footer 'Copyright/Credits' & 'Return to Top' in Genesis is already easy with the use of Genesis Footer Shortcodes or some other plugins.
However, it COULD still be much easier and more flexible with Widgets in WordPress! This plugin just achieves that, and at the same time keeping full Genesis Shortcodes support for the footer section! Yes, it's that cool! ;-) You can use up to two widget Areas! Place one - full-width then - or two (one third/two thirds then) and get back the flexibility you've wanted for this area! Marc Andreessen on the age of context (er, the future of the tech industry) Richard Pryor Classic stand Up performance.
Social Authority: Our Measure of Twitter Influence. [This blog post is co-authored by Matt Peters, our Data Scientist.]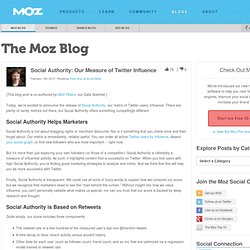 Today, we're excited to announce the release of Social Authority, our metric of Twitter users' influence. There are plenty of vanity metrics out there, but Social Authority offers something compellingly different. Social Authority Helps Marketers Social Authority is not about bragging rights or merchant discounts.
Post
Users containing "Texa" [1 - 20] Google+ trends and statistics. Software. WRITING HELP. SEO Software and SEO Tools | Top 10 Rank Guarantee | SEO PowerSuite.
---