Mattiealex
Test Your Geography Knowledge. What's new New quizzes and updates in February: African rivers and lakes quiz (17 questions) The Caribbean islands quiz has been redone to show more islands.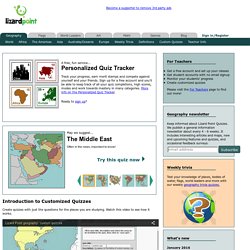 The Tennessee river has been redrawn in the USA rivers quiz.The maps and highlight areas in the Caribbean independent countries and Caribbean independent countries capitals quizzes has been adjusted to exclude the Turks and Caicos islands from the Bahamas selection. A new type of quiz - more political than geographical, except you do still have to click on a map to answer. US State Governors recognition by name and photo. Decorating, DIY, Room Design Ideas - Shelterness. How to transfer a photo to fabric. Did you know you can transfer photos to fabric without using iron-on sheets?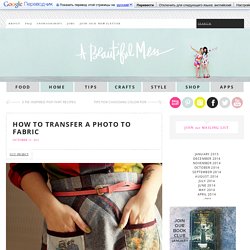 I love this technique. It's simple to execute and the end results are really pretty. It's another method for hand printing! Colorizing a Black & White Image. This image is copyright free and in the public domain anywhere that extends copyrights 70 years after death or at least 120 years after publication when the original illustrator is unknown.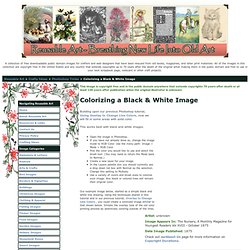 Building upon our previous Photoshop tutorial, Using Overlay to Change Line Colors, now we will fill in some areas with solid color. This works best with black and white images. Open the image in Photoshop.If you have not already done so, change the image mode to RGB Color. Test Your Geography Knowledge.
Do-it-Yourself DIY String Wedding Lanterns Yarn Chandeliers. Jessica of Wednesday Inc shows us how to make those gorgeous twine chandeliers from the inspiration shoot she shared with us this morning.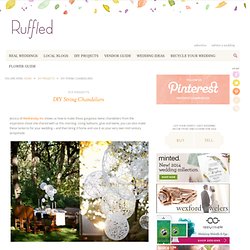 Using balloons, glue and twine, you can also make these lanterns for your wedding – and then bring it home and use it as your very own mid century lampshade. What you will need are: balloons, glue, yarn, tray for glue, corn starch 1/2 cup of Corn starch, 1/4 cup of Warm water, clear fast drying spray paint, hanging lamp cord or fishing line (depending on your desired final product), and a lighting kit if you're looking for a fully functional lantern. Jessica recommends using a sharpie to mark on the inflated balloon how much room you need to leave for the lighting cord. She also recommends coating the balloon with vaseline prior to wrapping the yarn coated with glue so it doesn't stick on the balloon once it's dry. You can see all the details on Jessica's blog. No Outdoor Space? Try Gutter Gardens : katyelliott.com. Posted on | April 29, 2009 | 12 Comments I love this garden idea!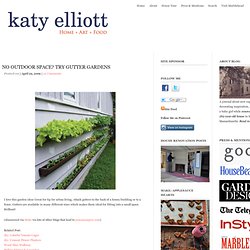 Great for tip for urban living. Readers' Wise Tips for Using Borax. 10 Excellent iPad Applications for Teachers. With the iPad2 on the launching pad, it's a great time to share this list of useful iPad apps for teachers from guest writer Paula Dierkens.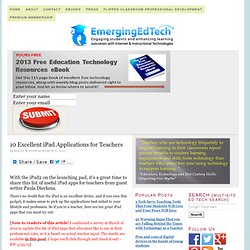 There's no doubt that the iPad is an excellent device, and if you own this gadget, it makes sense to pick up the applications best suited to your lifestyle and profession. So if you're a teacher, here are ten great iPad apps that you must try out: [Note to readers of this article! Free Technology for Teachers. Fact Monster: Online Almanac, Dictionary, Encyclopedia, and Homework Help. 100 iPad Tips and Tricks.pdf.
40 Amazingly Educational iPad Apps for Kids. Adults are obsessed with the new iPad, but have you ever thought about sharing your new toy with your kids?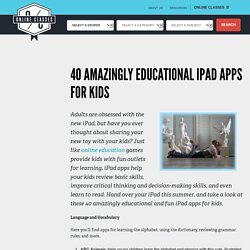 Just like online education games provide kids with fun outlets for learning, iPad apps help your kids review basic skills, improve critical thinking and decision-making skills, and even learn to read. Hand over your iPad this summer, and take a look at these 40 amazingly educational and fun iPad apps for kids. Language and Vocabulary Here you'll find apps for learning the alphabet, using the dictionary, reviewing grammar rules, and more. Recommended Free iPad Apps - Handy Tips from TeacherRicks. How to use fancy gestures on the iPad (and why you should) — Apple News, Tips and Reviews. 50 really useful iPad tips and tricks.
With great new features like two video cameras, a faster processor and a Retina display, the new iPad is the world's best tablet device.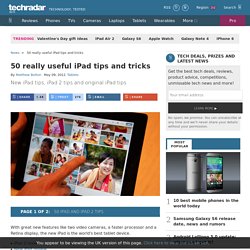 It's also fully capable of running the latest version of Apple's iOS operating system and great apps like iMovie and GarageBand. Here we present 50 really useful iPad tips. 10 Essential iPad Tips & Tricks. ManyBooks.net - Free eBooks for your iPad, smartphone, or eBook. 28 iPad 2 Tips and Tricks. Your new iPad 2 might not be as full-featured (or as complicated) as a laptop or desktop PC, but a few neat tricks are still hidden between the surface.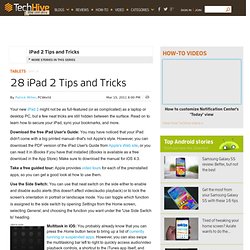 Read on to learn how to secure your iPad, sync your bookmarks, and more. Download the free iPad User's Guide: You may have noticed that your iPad didn't come with a big printed manual--that's not Apple's style. However, you can download the PDF version of the iPad User's Guide from Apple's Web site, or you can read it in iBooks if you have that installed (iBooks is available as a free download in the App Store). Make sure to download the manual for iOS 4.3. Take a free guided tour: Apple provides video tours for each of the preinstalled apps, so you can get a good look at how to use them.
DIY Project: Repurposing your maps! Good Morning darlings...Hope you have a fabulous day today!!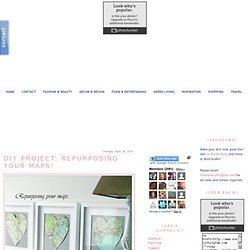 With the use of GPS there is really not much use to all those maps we collected through out time...but somehow I have a hard time throwing them away. How about this lovely way of repurposing them?? I think they are super cute for a corridor to the kids room, or a small side wall!! I also love the vignette inspiration (Tray + vintage spoons & other + apothecary jars= total bliss!!).
Can you think of any other great way of repurposing your maps?? Find quotes about anything and everything. 10 Homemade Laundry Soap Detergent Recipes. Here is a nice stack of different recipes for making homemade laundry detergent that I've collected over the years.
Do they work? Yes, I've had good luck with them. At the time I was using them, we had a relative who was in trade school living with us. Every day he was mechanic grease from head to toe–the clothes still cleaned up nice! DIY Suds. Update: If using a HE washer, our readers have suggested throwing the mix directly into the wash load, rather than the soap dispenser. Please read through the comments for more Q&As, as you have all been so wonderful to share your experiences! And if you're looking for even more information on our DIY suds, see our sudsy update to this post, right here. The last time I purchased laundry soap, I threw a fit in the cleaning aisle and spent the drive home moaning over the high coast of detergent. Wood Butter – The perfect thing for your wood bowls and utensils. — Recipes - A Denver Colorado Food Blog - Sharing food through recipes and photography.
Several months ago Wendi with Bon Appetit Hon, did a post on Wood Butter; like you I had a moment of Huh? What? Well, typically called Spoon Oil, Wendi had decided that Wood Butter fit better and I agree; leave it to another food person to put the perfect name on this elixir that is so simple but so perfect for the care of the wood items we use in the kitchen. A necessity but also a bit indulgent…yes, butter is perfect! We need to take special care of our wood kitchen items in Denver due to the low humidity in our environment and I can be as lax as the next person.
Making your own 'wood butter' makes it simple and inexpensive too. Getting whites clean. "One Good Thing" by Jillee: Whitening Whites...Can This Cami Be Saved? My post about getting armpit stains out of t-shirts apparently struck a nerve or something. It has received almost 100,000 pageviews and is the 2nd most viewed post of all time! Apparently I'm not the only one obsessed with concerned about white clothes being WHITE.
While getting the armpit stains out of my sons' t-shirts and out of my camis was very satisfying indeed…my quest to salvage perfectly good articles of clothing from the trash merely because they have lost their lustre, continues. This past weekend however, I feel like I made a breakthrough of sorts and feel compelled to share. Rainbow Cake in a Jar | The Family Kitchen. I've always had a penchant for sunshine in a jar. Doesn't the very phrase itself, "sunshine in a jar," roll off your tongue and fill your mouth with magic? While I've never yet found myself a sunshine in a jar, I think we may have just concocted it in our kitchen tonight. In this simple recipe, a basic white cake is turned into a slew of bright colors, baked to perfection, then topped with a creamy white frosting.
No-Bake Chewy Cookies and Cream Bars. Make-Ahead Apple Pie | Recipes. Strawberry Peach Vodka Collins Popsicle Recipe. French Vanilla Coffee Creamer.
Fried Ice Cream. Cupcakes. The Infamous Jacques Torres Chocolate Chip Cookies - StumbleUpon. Carla Hall's Fried Chicken. Mozzarella Sticks Recipe. Cruft: Lasagna Cupcakes - StumbleUpon. Gift Ideas / lemon sugar hand scrub.
How to Make Lavender Sugar Scrub. How To Make a Coffee Body Scrub— Skin Care Treatment - StumbleUpon. Handmade Salt Pouches For The Shower Or Bath - StumbleUpon. 100 Healthy Recipes for Lazy People | Nursing Schools.net - StumbleUpon. Common Ingredient Substitutions Article. 5 Foods To NEVER Eat | Beyond Diet. Cinnamon Sugar Pull-Apart Bread. Fluffy Pancakes | Blogger For Hire - StumbleUpon.
Magic Sauce Recipe. The Bianca | Grilled Cheese Academy. Most favorited all-time - page 3. My Fridge Food - Recipes you already have in your Fridge. Watch all your favorite tv shows and movies online free.
---