Mattiascollin
Mattias Collin
Blackboard. Scopus. F1000 - Post publication peer review. Personal Workspace. Chronic Inflammation Program | Medicinska fakulteten, Lunds universitet. Division of Infection Medicine | Medicinska fakulteten, Lunds universitet. Several research projects at our Division are focused on molecular and cellular mechanisms that contribute to the development of severe infections caused preferentially by bacteria, but also by viruses and fungi.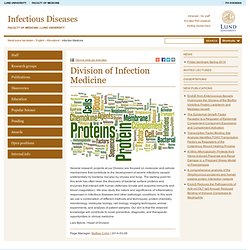 The starting point for this work has often been the discovery of bacterial surface proteins and enzymes that interact with human defenses (innate and acquired immunity and blood coagulation). We also study the nature and significance of inflammatory responses in infectious diseases and other pathologic conditions. In this work we use a combination of different methods and techniques: protein chemistry, microbiology, molecular biology, cell biology, imaging techniques, animal experiments, and analysis of patient samples. Our aim is that the obtained knowledge will contribute to novel preventive, diagnostic, and therapeutic opportunities in clinical medicine.
Lars Björck / Head of Division. The Collin Lab | Medicinska fakulteten, Lunds universitet. Mattias Collin. Mattias Collin, Associate Professor - Publications List. Collin Lab. eZ Publish.
Pearltrees videos
Help.
---