Photography
Get flash to fully experience Pearltrees
e6542bcccf_75247609_o2.jpg (1920×1080)
Computer wallpapers / wallbase.cc
Some cities die. The people leave, the streets go quiet, and the isolation takes on the macabre shape of a forlorn ghost-town - crumbling with haunting neglect and urban decay.
The world's ten creepiest abandoned cities
100 Abandoned Houses on Photography Served
Nature photography by Patrick Zephyr
Novartis "Reflections" Campaign on Photography Served
ANYTHING BUT SQUARE on Photography Served
The-Gathering.jpg (700×700)
Sea Foam
The Mountain on Vimeo
Impossible & Improbable on Photography Served
New Zealand Pictures, New Zealand Photos and New Zealand Photography
Lothen.com
abandoned places
It's generally considered a good idea to wait until the 3 month scan before telling people you're going to have a baby, just to make sure everything is ok.
Tom Robinson Travel Photography: I'm going to be a dad!
Photographer Turns his 91-Year Old Grandma into a Superhero to Cheer Her Up
A few years ago photographer Sacha Goldberger found his 91-year-old Hungarian grandmother Frederika feeling lonely and depressed. So to cheer her up, and put a spark back into her life, he turned her into a superhero! He took a series of awesome photographs of her wearing costumes in unusual superhero type posses.
The tremendous popularity of this article with more than half a million (!) clicks in one month inspired me to contact the artist Michael Wesely himself. I felt there were questions by readers which I couldn't answer correctly without talking to Michael.
The Longest Photographic Exposures in History - The Latest - itchy i
Engagement Photos Inspired by Wonderland
I met fellow explorers Mike Rosati and Minda Vermazen for the first time in the Las Vegas Airport, en route to New Orleans to photograph the abandoned Six Flags Theme Park that closed when Hurricane Katrina struck in August 2005. We read online that the park was being dismantled and sold for scrap beginning in January 2011, so with little time to spare, we hastily made plans to visit during the first week of December 2010. Our plane landed around midnight, and we drove straight to the park on a cursory scouting mission.
Abandoned Six Flags in New Orleans | Beyond the Photos
Captured: Great Depression Photos: America in Color 1939-1943
Posted Jul 26, 2010 These images, by photographers of the Farm Security Administration/Office of War Information, are some of the only color photographs taken of the effects of the Depression on America's rural and small town populations.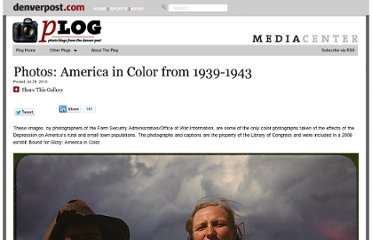 We here at DPShots believe that the easiest way to learn photography is to learn it by example.
70 Photographs That Will Take Your Breath Away
Flickr Related Tag Browser
BEST of BTS | Photography by Angus R. Shamal
800x76100image00001.jpg (800×588)
Y U NO Click!
Y U NO Click! - MiscPix on each Click!
This is one of the most anticipated annual photo contests .
50 Images from National Geographic`s 2010 Photo Contest
1242155116637.jpg (3569×2372)
picture-4.jpg (516×773)
Diego Goldberg :: The Arrow of Time
cole rise
National Geographic's Photography Contest 2010
A supercell thunderstorm rolls across the Montana prairie at sunset.
look-at-shadow.jpeg (600×379)
From 1945 to 2010
Very smart and original, thank you! by artistguy Jan 13
FHHKYApproaching-shadow.jpg (860×1200)
Photographer Chris Kotsiopoulos ; Chris' Website Summary Author : Chris Kotsiopoulos
Twenty Four Hour View of the Sky
PxcnV.jpg (800×600)
My Photography Tutorials - 360 Degree Reverse Photography - Gallery
In order to create a , you do not need to be an expert photographer or own expensive photography equipment.
mont_st_michel-.jpg (960×729)
Where Children Sleep: A Diverse World of Homes
When photographer James Mollison was asked to do a project on children's rights , he found himself thinking back to his childhood bedroom and the deep importance it played in his upbringing. Taking that idea with him around the world, he photographed a diverse cross section of children and the bedrooms they call home.
natgeo.jpg (600×450)
fireworks-new-york_33027_990x742.jpg (989×742)
75 Abandoned Theaters From Around The USA: Pics, Videos, Links, News
The power of Photoshop is amazing, but still it doesn't beat the power of imagination. Although many photos taken by professional photographers and enhanced in Photoshop can be absolutely stunning, the photos taken wisely and in a creative manner are even more impressive. Today's showcase is dedicated to such photos, the ones that make people skeptical about not being manipulated and still they are genuine and impressive.
36 Pictures That Look Photoshopped – But Are Not
extreme dew by Ursula I Abresch
stairway of the crying walls by Sven Fennema
00012.jpg (627×472)
Brilliant photography from Natgeo archives | Pokkisam blog
Looking into the Past
20 Most Amazing Microscope Shots Pictures !!!!
G A L L E R Y
What away of putting a web site together. by weyboom Nov 7
Your beautiful eyes on the Behance Network
Eyes have more to tell then you think. by weyboom Nov 7
Creative photos by Chema Madoz
Scientific Curiosity Captured in Photos
Smashing Picture
25 Creative Examples Of Forced Perspective: Pics, Videos, Links, News
1X - Fine Art Photography & Prints
beautiful-christmas-lights1.jpg (602×680)
Jesus is my Savior
362285_1232630961_large.jpg (1500×1076)
{paul & cassie} ~ wedding ~ brisbane | Brisbane Wedding Photographer | Jonas Peterson | Australia | International
88 Brilliant Examples of Forced Perspective Photography
dentsu: paint sound sculptures
Forced perspective: Let's play together with the sun and the moon | Beautiful photography