Funny
21 Scathingly Witty Insults By Famous People: Pics, Videos, Links, News. Australian slang dictionary. Application for a night out - his'n'hers. The Light Switch. Picture_11.png (797×596) The-baffling-pinocchio-paradox-17605-1277075492-29.jpg (481×700) Bad-artists-great-artists.jpg (640×575) LOTS OF PUNS. ...A guy goes into a nice restaurant bar wearing a shirt open at the collar and is met by a bouncer who tells him he must wear a necktie to gain admission.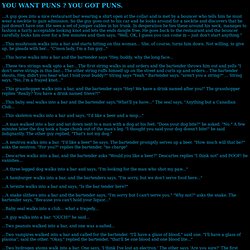 So the guy goes out to his car and he looks around for a necktie and discovers that he just doesn't have one. He sees a set of jumper cables in his trunk. In desperation he ties these around his neck, manages to fashion a fairly acceptable looking knot and lets the ends dangle free. He goes back to the restaurant and the bouncer carefully looks him over for a few minutes and then says, "Well, OK, I guess you can come in -- just don't start anything. " ...This mushroom walks into a bar and starts hitting on this woman... Todd Lamb Notes From Chris Gallery. Welcome to the " Notes From Chris" gallery.
These are notes that I post around New York City from a mysterious man named Chris. Chris wants to do tedious things with people. Commonsense. Commonsense ♠♣ © winnie caw 2002(follow the arrows below for more of winnie caw's whimsy, or click on a link)Puns, More Puns and Jokes Home Page Reflections Search Engine - find anything on whimsy pages.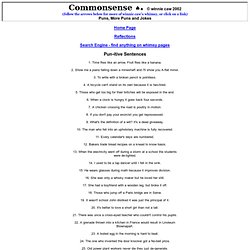 ---