Fantasy
Sdcc-10-the-future-of-the-x-men-20100723022618816.jpg (3000×797) City-Scape.jpg (2800×1600) Www.dusso.com/pages/EP3/sac.html. Post-apocalyptic Tokyo scenery. 19 Aug 2010 The illustrations of TokyoGenso (a.k.a.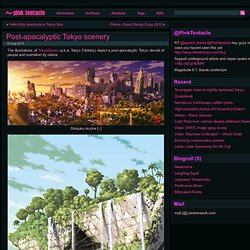 Tokyo Fantasy) depict a post-apocalyptic Tokyo devoid of people and overtaken by nature. Shinjuku skyline [+] Tokyo Big Sight [+] Рисунки художника Sam Nielson (71 фото - 10,06.Mb. InfiniteOz1. Illustrations. Utherworlds-Unohla. Super Sprayer. 302986_1195805008_large.jpg (1600×691)
---
drakeabbychicka Jun 19 2011

u have great taste, i just started using pearltree for the first time tonight and got lost traviling around your tree and i am having a great time, your tree is great movation.
---