Personal
I recently had the popular problem of Windows 7 battery manager malfunctioning and not charging my battery when plugged in. The battery was fine, the power supply was fine, and the motherboard was fine (I have enough laptops with the same specs in the Headspring office, and I was able to swap out parts to isolate the problem). I also searched for this problem online, and many folks are having this problem with all makes of laptop computers. I found the steps that solved my problem here on the TechNet forums. There are multiple solutions proposed, and here are the steps that fixed it for me:
Plugged in, not charging Windows 7 solution : Jeffrey Palermo (.com)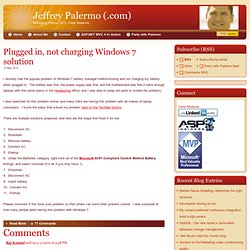 Radio 2 - Concerts On Demand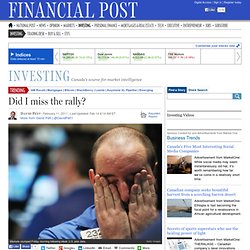 Did I miss the rally? | Investing
A man from now travels back in time and walks into a Bay Street watering hole on March 9, 2009, shouting, "Drinks are on me. I've doubled my stock returns in just two years." You, sitting at the end of the bar, look at him like he's crazy. After all, you've been doing nothing but cry in your beer for the past nine months as the vicious bear market wiped out 50% of your portfolio.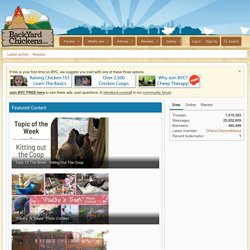 Still no eggs... I bought my first 4 chickens last Friday, and was told that they are all laying eggs already. But I haven't even seen one yet. Also, they are terrified to go outside.
Plugged in, Not Charging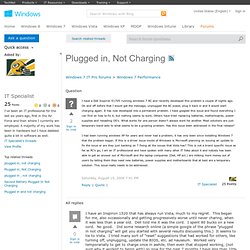 Is the most recent BIOS installed? Boot into the BIOS. Under power management check the battery. Is it reported OK?