Consulting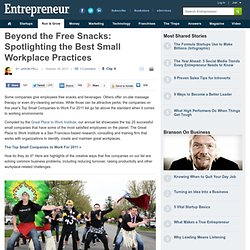 Some companies give employees free snacks and beverages. Others offer on-site massage therapy or even dry-cleaning services. While those can be attractive perks, the companies on this year's Top Small Companies to Work For 2011 list go far above the standard when it comes to working environments. Compiled by the Great Place to Work Institute, our annual list showcases the top 25 successful small companies that have some of the most satisfied employees on the planet. The Great Place to Work Institute is a San Francisco-based research, consulting and training firm that works with organizations to identify, create and maintain great workplaces.
Beyond the Free Snacks: Spotlighting the Best Small Workplace Practices
Home Page
The process of getting your idea into a real world product is often complicated and requires specialist knowledge, money and partners. But people do it every day! Invention Evaluator helps you by providing unbiased feedback in the form of an analyst report on the technology, intellectual property and commercial potential of your invention. It gives you vital information about the strengths, weaknesses, opportunities and threats to your idea, and gives you clear strategy and information resources to take the next steps. Perhaps most importantly, it does this objectively. Invention Evaluator does the analysis and report, nothing more.