Mushrooms
I am attempting to gather information on mushrooms and fungi. Jun 14
Perfecti - Fungi.com
Perfecti - Fungi.com
Dane Osis and His Morel Motherload « Oregon Mushroom Stories
Dane Osis and His Morel Motherload Posted by Lola Milholland on April 6, 2012 · 5 Comments Dane Osis is a 35-year-old Park Ranger at Fort Stevens State Park, just outside of Astoria.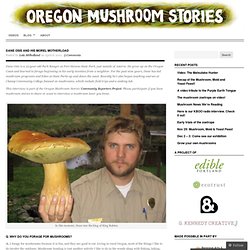 I just received an email regarding new rules about hunting mushrooms on private property. Apparently you will need a written permisson form from the landowner, issued by the forest service. Perhaps it only pertains to truffle hunting.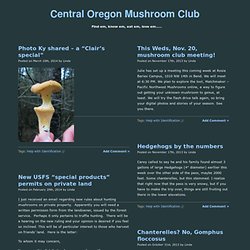 Central Oregon Mushroom Club
Most Recent Archives (This Year) June 1st, 2007: submitted photos: June 1st, 2007: B-Dodo the estranged, black morel - general location = Oregon, above Parkdale, Growing Conditions = Heavy timber lands about 4000' Additional Comments = A great day on Monday May 28th, 10lbs of Morels, batches of Yellow Corals, 4 giant Gyromirta Gigas and a solitary King Bolete!!!! The biggest Morels I've ever found in my life!!! Glory be, seems the season is moving to higher elevations.
Most Recent Archives
2012 Morel Sightings Map
Consuming wild mushrooms can be a hazardous endeavor and in some cases even fatal! Before eating any mushroom collected from the wild it is absolutely critical that it is identified with certainty. An old mushroom hunters' axiom states "When in doubt, throw it out", such an embrace of skepticism can save your life. If you believe you have ingested a poisonous mushroom, immediately contact Poison Control (1-800-222-1222), and save an uncooked sample of the mushrooms you consumed for the purpose of identification. This can be critical for determining the proper course of treatment. Morel hunting can also be extremely addictive!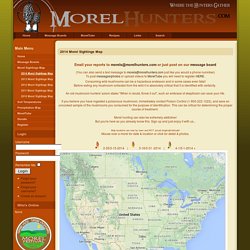 Morel Mushroom Report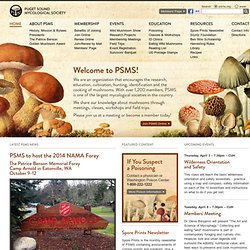 Puget Sound Mycological Society | The Largest Mushroom Society in the Pacific Northwest
Thursday, April 3 – 7:30pm – CUH This class will teach the basic wilderness orientation and safety essentials... practice using a map and compass, safety information on each of the 10 essentials and instructions on what to do if you get lost. Tuesday, April 8 – 7:30pm – CUH Dr. Denis Benjamin will present "The Art and Science of Mycophagy." Collecting and eating "wild" mushrooms is part of contemporary foraging and culinary chic.
MDCP Morel Taxa
by Michael Kuo The morels described below are based on unpublished DNA testing of morels sent in to the Morel Data Collection Project . I have not used scientific names (with two exceptions), since most of the scientific names currently in use represent European species, and DNA comparisons would have to be made before these European names could be applied to North American mushrooms. The names used below are either random "taxon" numbers assigned by Dr. Carol Carter or Dr.
PNW edibles
Commercially-Harvested Edible Forest Mushrooms Productivity and Sustainable Harvest Research in the Pacific Northwest David Pilz, Randy Molina, & Jane Smith. Pacific Northwest (PNW) Research Station, US Department of Agriculture, Forest Service, Forestry Sciences Laboratory, 3200 Jefferson Way, Corvallis, Oregon 97331. Mike Amaranthus. Pacific Northwest (PNW) Research Station, US Department of Agriculture, Forest Service, Siskiyou National Forest, Grants Pass, Oregon 97526. Commercial Harvesting
Edible Forest Mushrooms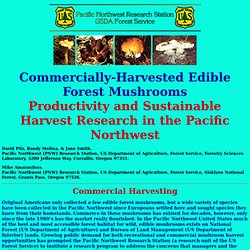 This guide covers wild edible mushrooms of British Columbia, Washington, Oregon, Montana, Idaho, the Rocky Mountains and Western Canada. This list only contains "safe" mushrooms - those that can be reliably identified and have no deadly-poisonous look-alikes. As a safety precaution, all mushrooms should be cooked and eaten in small quantities if not previously consumed. Warning: do not attempt to identify a mushroom by matching the pictures alone; compare all the listed characteristics. Never experiment with a mushroom that you cannot positively identify.
Edible Wild Mushrooms of the Pacific Northwest