Mushrooms
I am attempting to gather information on mushrooms and fungi. Jun 14
Perfecti - Fungi.com
Perfecti - Fungi.com
Dane Osis and His Morel Motherload « Oregon Mushroom Stories
Dane Osis and His Morel Motherload Posted by Lola Milholland on April 6, 2012 · 4 Comments Dane Osis is a 35-year-old Park Ranger at Fort Stevens State Park, just outside of Astoria.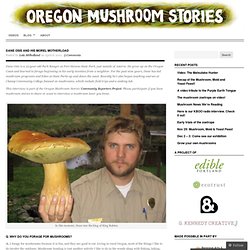 Central Oregon Mushroom Club
Most Recent Archives (This Year)
Most Recent Archives
2012 Morel Sightings Map
Morel Mushroom Report
Puget Sound Mycological Society | The Largest Mushroom Society in the Pacific Northwest
MDCP Morel Taxa
by Michael Kuo
PNW edibles
Commercially-Harvested Edible Forest Mushrooms Productivity and Sustainable Harvest Research in the Pacific Northwest David Pilz, Randy Molina, & Jane Smith.
Edible Forest Mushrooms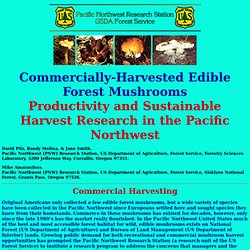 This guide covers wild edible mushrooms of British Columbia, Washington, Oregon, Montana, Idaho, the Rocky Mountains and Western Canada.
Edible Wild Mushrooms of the Pacific Northwest