Ukraine
Un article de Wikipédia, l'encyclopédie libre. Ukraine Україна / Ukraïna ( uk ) L' Ukraine — en ukrainien : Україна ( Ukraïna [ukrɑˈjinɑ] ) — est un État d' Europe de l'Est , le deuxième plus grand d' Europe [ 3 ] . Elle est bordée par la mer Noire et la mer d'Azov au sud, frontalière avec la Russie au nord et à l'est, avec la Biélorussie au nord, avec la Pologne , la Slovaquie et la Hongrie à l'ouest et avec la Roumanie et la Moldavie au sud. La capitale de l'Ukraine est Kiev , la langue officielle du pays est l' ukrainien et sa monnaie est la Hryvnia .
Ukraine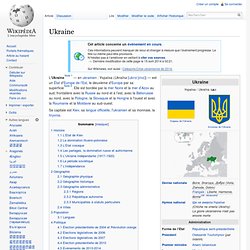 Révolution orange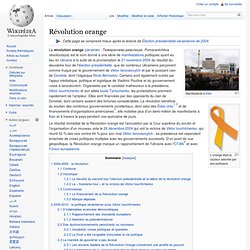 Un article de Wikipédia, l'encyclopédie libre. L'orange était la couleur arborée par ses partisans. La révolution orange ( ukrainien : Помаранчева революція , Pomarantchéva révolioutsiya ) est une série de manifestations politiques ayant eu lieu en Ukraine à la suite de la proclamation le 21 novembre 2004 du résultat du deuxième tour de l' élection présidentielle , que de nombreux Ukrainiens perçoivent comme truqué par le gouvernement de Viktor Ianoukovitch et par le puissant clan de Donetsk , dont l'oligarque Rinat Akhmetov . Certains sont également outrés par l'appui médiatique, politique et logistique de Vladimir Poutine et du gouvernement russe à Ianoukovitch. Organisées par le candidat malheureux à la présidence, Viktor Iouchtchenko et son alliée Ioulia Tymochenko , les protestations prennent rapidement de l'ampleur.
Opinion - OP-ED - Russia battles with Europe over Ukraine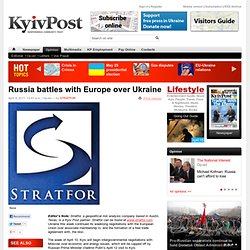 Editor's Note: Stratfor, a geopolitical risk analysis company based in Austin, Texas, is a Kyiv Post partner. Stratfor can be found at www.stratfor.com . Ukraine this week continued its weeklong negotiations with the European Union over associate membership in, and the formation of a free trade agreement with, the bloc.