Google
La stratégie "globale" de Google pour imposer Google +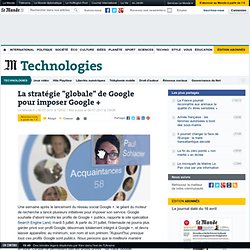 Une semaine après le lancement du réseau social Google +, le géant du moteur de recherche a lancé plusieurs initiatives pour imposer son service. Google souhaite d'abord rendre les profils de Google + publics, rapporte le site spécialisé Search Engine Land, mardi 5 juillet. A partir du 31 juillet, l'internaute ne pourra plus garder privé son profil Google, désormais totalement intégré à Google +, et devra laisser apparaître, au minimum, son nom et son prénom."Aujourd'hui, presque tous ces profils Google sont publics. Nous pensons que la meilleure manière d'utiliser "Google Profiles" est d'aider à trouver des personnes et de les connecter en ligne. Ce que ne permettent pas les profils privés", fait valoir Google.
Google, the world's largest search company, is formally making its pitch to become a major force in social networking. The product it announced Tuesday is called Google+, and observers might wonder whether it's simply one more social effort by a company that's had a lousy track record in that field to date. 'On Facebook I overshare. On Twitter, I undershare. If Google hits that spot in the middle, we can revolutionize social interaction.' — Shimrit Ben-Yair, product manager in charge of the social graph. Parts of it certainly seem to appear similar to what we've seen before.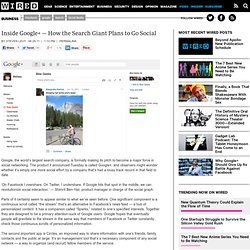 Google Office In Zurich
We all know how Google pampers its employees with lavish office environment and all kinds of facilities and these are a set of photos inside the Google building in Zurich, Switzerland from Picasa. Bathtubs where you can sit and relax while watching an aquarium, a hallway slide, peculiar meeting rooms makes you envious with awe for those who can work in the Google workplace. Check out more of the Google office in Zurich with 37 more pics after the jump. Source: Picasa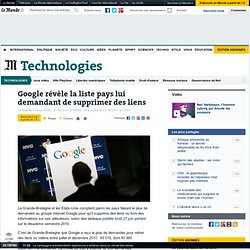 La Grande-Bretagne et les Etats-Unis comptent parmi les pays faisant le plus de demandes au groupe internet Google pour qu'il supprime des liens ou livre des informations sur ses utilisateurs, selon des tableaux publiés lundi 27 juin portant sur le deuxième semestre 2010. C'est de Grande-Bretagne que Google a reçu le plus de demandes pour retirer des liens ou vidéos entre juillet et décembre 2010 : 93 518, dont 93 360 effectivement ont été supprimés à la demande des autorités, pour éliminer des publicités mensongères. La Corée du Sud a soumis 32 000 demandes, essentiellement pour éviter la divulgation d'un numéro d'identité national (RNN).
Google révèle la liste pays lui demandant de supprimer des liens
Google report reveals British government web snooping
High performance access to file storage A French search engine is demanding damages of €295m from Google, in a legal spat over Mountain View's dominance of the market. 1plusV, a local rival to Google in France, alleged that Mountain View's command of the search engine biz had blocked the development of services offered by competitors in the country. The French outfit charged that Google's dominance prevented lesser-known companies from lapping up ad revenue, and claimed that the world's largest search engine prioritises its own sites in query results over that of its rivals.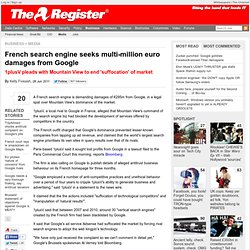 French search engine seeks multi-million euro damages from Google
Google+ Unveiled: 7 Things You Need To Know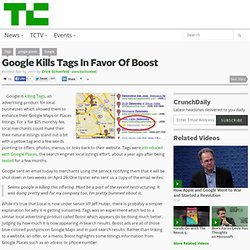 Google Kills Tags In Favor Of Boost
Google is killing Tags, an advertising product for local businesses which allowed them to enhance their Google Maps or Places listings. For a flat $25 monthly fee, local merchants could make their their natural listings stand out a bit with a yellow tag and a few words pointing to offers, photos, menus, or links back to their website. Tags were introduced with Google Places, the search engines local listings effort, about a year ago after being tested for a few months. Google sent an email today to merchants using the service notifying them that it will be shut down in two weeks on April 29.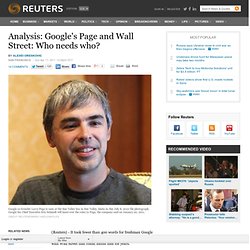 Analysis: Google's Page and Wall Street: Who needs who?
SAN FRANCISCO (Reuters) - It took fewer than 400 words for freshman Google Inc CEO Larry Page to set the tone for a strained relationship with Wall Street that could haunt him for years. The 38-year-old tech visionary -- who with Sergey Brin created the algorithm that today powers the world's most-used search engine -- risks alienating a powerful investor constituency that will be crucial to his efforts to ensure Google remains at the top of its game, say some industry observers. Investors had hoped to hear Page sketch out his vision during a Thursday post-earnings conference call.
Aide Referencement Google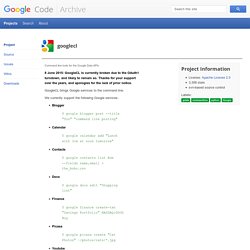 GoogleCL brings Google services to the command line. We currently support the following Google services: Blogger $ google blogger post --title "foo" "command line posting" Calendar $ google calendar add "Lunch with Jim at noon tomorrow"
By Ricky on July 6th, 2011 In what might possibly be the largest websites ban ever in its history, Google has removed more than 11 million domains from its search result. Google's decision to ban these websites is because of the huge number of spam and phishing websites hosted at this domain. According to a recent report from the Anti-Phishing Working Group, the .co.cc domain hosts around 5000 phishing websites. Although the TLD .cc is officially owned by the Cocos (Keeling) Islands, the domain .co.cc is not an officially recognized second level domain.
Google Removes More Than 11 Million .co.cc Domains From Search Result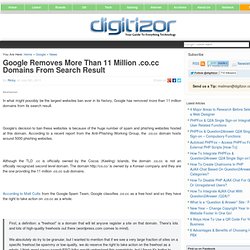 Music Beta by Google
It's here! Google has released Panda update 2.2, just as Matt Cutts said they would at SMX Advanced here in Seattle a couple of weeks ago. This time around, Google has - among other things - improved their ability to detect scraper sites and banish them from the SERPs. Of course, the Panda updates are changes to Google's algorithm and are not merely manual reviews of sites in the index, so there is room for error (causing devastation for many legitimate webmasters and SEOs). A lot of people ask what parts of their existing SEO practice they can modify and emphasize to recover from the blow, but alas, it's not that simple.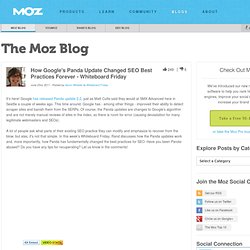 Un article de Wikipédia, l'encyclopédie libre. Pour les articles homonymes, voir Mayer. Marissa Mayer Marissa Mayer en 2012. Biographie[modifier | modifier le code] Marissa Mayer a aussi travaillé à la conception et au développement de l'interface de recherche de Google, la création de Google Actualités ou encore Gmail et Orkut ainsi que plus d'une centaine de fonctionnalités et produits sur Google.com.
Marissa Mayer
Eric Schmidt
Un article de Wikipédia, l'encyclopédie libre. Pour les articles homonymes, voir Schmidt. Eric Schmidt Eric Schmidt en 2011
Google extends Chrome to spot insecure code
Heads up, Skype. Shortly after releasing software for audio and video chat as an open-source project called WebRTC as open-source software, Google is beginning to build it into its Chrome browser. The real-time chat software originated from Google's 2010 acquisition of Global IP Solutions (GIPS) , a company specializing in Internet telephony and videoconferencing.
Google building Skype-alike software into Chrome | Deep Tech
5 extensions Google Chrome pour Twitter
Un nouveau moteur de recherche "officiel" en Chine