FFI Partners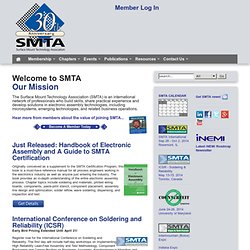 Our Mission The Surface Mount Technology Association (SMTA) is an international network of professionals who build skills, share practical experience and develop solutions in electronic assembly technologies, including microsystems, emerging technologies, and related business operations. Hear more from members about the value of joining SMTA... Just Released: Handbook of Electronic Assembly and A Guide to SMTA Certification Originally conceived as a supplement to the SMTA Certification Program, this book is a must-have reference manual for all process engineers working in the electronics industry as well as anyone just entering the industry.
SMTA - Surface Mount Technology Association
imec
Home Page
ITRS Home
Thank you for your interest and visit! The International Technology Roadmap for Semiconductors, known throughout the world as the ITRS, is the fifteen-year assessment of the semiconductor industry's future technology requirements. These future needs drive present-day strategies for world-wide research and development among manufacturers' research facilities, universities, and national labs. NEW!
SEMATECH: Accelerating the next technology revolution
Home - Accellera Systems Initiative
GSA | Global Semiconductor Alliance
Welcome to College of Nanoscale Science and Engineering
Leti - Home
The Institute of Microelectronics of Chinese Academy of Sciences