FFI Partners
SMTA - Surface Mount Technology Association
imec
Home Page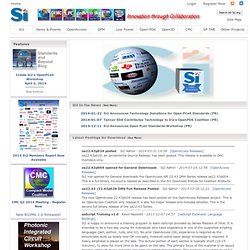 Si2 (Silicon Integration Initiative) - Introduction Silicon Integration Initiative (Si2) is an organization of industry-leading companies in the semiconductor, electronic systems and EDA tool industries. We are focused on improving productivity and reducing cost in creating and producing integrated silicon systems.
ITRS Home
SEMATECH: Accelerating the next technology revolution
Home - Accellera Systems Initiative
Verbund Mikroelektronik: Welcome to Fraunhofer Group for Microelectronics
Welcome! The Fraunhofer Group for Microelectronics (German abbreviation: VµE), founded in 1996, combines the expertise of 12 Fraunhofer institutes (plus three guest institutes) with a total of more than 2.700 employees. Its main focus is the preparation and coordination of interdisciplinary research projects, conducting studies and to assist in the process of identifying strategies. The employees of the business office of the Fraunhofer Group for Microelectronics are contacts for customers out of the fields of science, research, business and politics.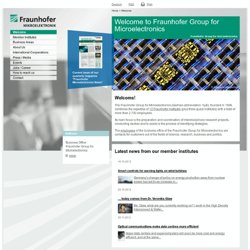 GSA | Global Semiconductor Alliance
Welcome to College of Nanoscale Science and Engineering
Leti - Home
The Institute of Microelectronics of Chinese Academy of Sciences