Tools - Typo
Fount · Identify any web font you see. Tagxedo donne des formes à vos nuages de tags  Voici un site qui vous permet de générer des nuages de tags assez sympas.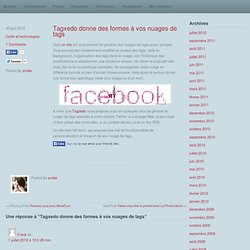 Vous pouvez bien évidemment modifier la couleur des tags, celle du background, l'organisation des tags dans le nuage, voir l'historique des modifications et sélectionner une ancienne version, de retirer et d'ajouter des mots (les mots courants par exemple), de sauvegarder votre nuage en différents formats et bien d'autres choses encore, mais aussi et surtout choisir une forme bien spécifique (celle d'un visage ou d'un mot).
Soyouneedatypeface.jpg (Image JPEG, 1983x1402 pixels) - Redimens. Tools and Resources to Improve your Typography on the Web. 4th February, 2010 Tom Kenny Articles Typography on the web has previously been confined to a set of web-safe fonts due to their dependance of being on every computer but now that has changed.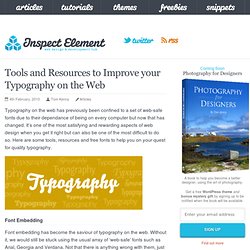 It's one of the most satisfying and rewarding aspects of web design when you get it right but can also be one of the most difficult to do so. Here are some tools, resources and free fonts to help you on your quest for quality typography. Font Embedding Font embedding has become the saviour of typography on the web. 20 Useful Typography Tools. Typography is a crucial component of a design.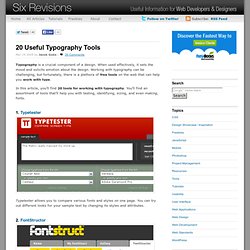 When used effectively, it sets the mood and solicits emotion about the design. Working with typography can be challenging, but fortunately, there is a plethora of free tools on the web that can help you work with type. In this article, you'll find 20 tools for working with typography. You'll find an assortment of tools that'll help you with testing, identifying, sizing, and even making, fonts. Wp-Typography • KINGdesk. Published: July 3, 2009 updated: February 18, 2010 KING­desk Web Design is proud to make avail­able wp-​​Typography, a merger and expan­sion of the wp-​​Typogrify and wp-​​Hyphenate Word­Press plu­g­ins and Smar­ty­Pants functionality.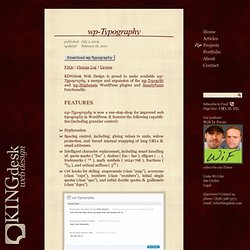 Features.
---