Music
Yahoo! Music - Internet Radio, Music Videos, Artists, Music News, Interviews and Performances.
Marvin Gaye. Marvin Gaye (April 2, 1939 – April 1, 1984), born Marvin Pentz Gay, Jr., was an American singer-songwriter and musician.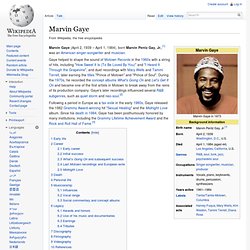 Following a period in Europe as a tax exile in the early 1980s, Gaye released the 1982 Grammy Award-winning hit "Sexual Healing" and the Midnight Love album. Since his death in 1984, Gaye has been posthumously honored by many institutions, including the Grammy Lifetime Achievement Award and the Rock and Roll Hall of Fame.[3] Early life[edit] Marvin began singing in church at age four and was accompanied by his father on piano. Lady Gaga | The Edge of Glory.
BlackEyedPeas.com - The Official Black Eyed Peas Website. New Music Videos, Reality TV Shows, Celebrity News, Top Stories. Watch Beyoncé's "Best Thing I Never Had" Music Video. Biagio Antonacci | Sito Ufficiale. Wax Poetics.
---