Twitter
What good is a Foursquare check-in if it doesn't lead to a coupon or freebie? Why bother tweeting about a brand you like if they don't acknowledge your undying love and loyalty? With TechCrunch Disrupt finalist SocialStock, those types of actions may now be rewarded…or at least that's the company's vision. The service, founded by Subbu Rama, aims to be a stock market for people and places which assigns a point value to users' social networking actions. Mimicking the framework of a real stock market, those actions become shares and then those shares can turn into real-world rewards from participating business or brands.
SocialStock Wants To Turn Social Networking Into Real-World Rewards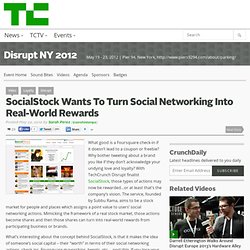 This video is currently unavailable. Sorry, this video is not available on this device. Video player is too small. Watch Later as __user_name__ as __user_name__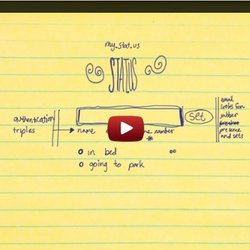 Twitter Launches Embeddable Streams of Tweets
Twitter has announced a new tool that will allow users to embed not just single tweets, but an entire timeline of tweets on web pages. The tool will allow the embed of a single stream, not a collection of tweets, but it can be customized in a variety of ways. The timeline, interestingly enough, is a streaming embed.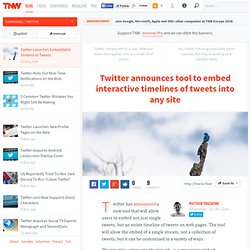 Good Times Ahead!
How to Choose the Best Instagram Filter for Your Photo
Until recently, I only vaguely understood what each Instagram filter accomplished. I knew, for instance, that Rise would virtually erase the massive pimple on my face without washing out my skin tone. I assumed that every Twilight fan preferred Sutro, with its dark and enchanting exposure. And as for Kelvin — why even venture a guess?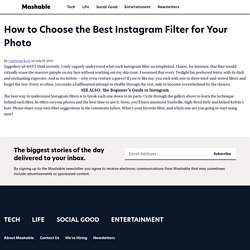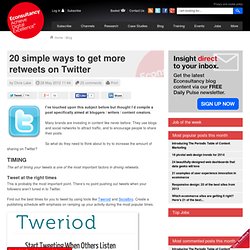 I've touched upon this subject before but thought I'd compile a post specifically aimed at bloggers / writers / content creators. Many brands are investing in content like never before. They use blogs and social networks to attract traffic, and to encourage people to share their posts. So what do they need to think about to try to increase the amount of sharing on Twitter?
20 simple ways to get more retweets on Twitter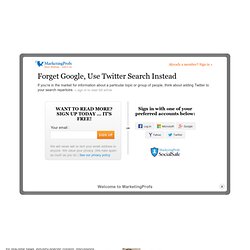 Forget Google, Use Twitter Search Instead
I'm a huge Twitter fan. As much as I love The Google, I also really like---and use---Twitter's built-in search functionality. Twitter in my world represents many great friends, conversation, learning, resources at my fingertips, daily laughs, content sharing, a robust content distribution network, stalking new business prospecting, and much more. I told you I was a fan. But I'm not so naïve as to think that just because I like a platform, everyone else does as well.
InstaBG: Twitter background with Instagram
Post Written by Jonathan Mumm , Banyan Branch's Network & Technology Administrator. Updated 11/26/12: Twitter Backgrounds now have a setting for horizontal alignment! Updated 10/5/2012:The size for the "Profile Banner" behind your avatar is 1200 x 600 pixels. Updated 1/06/2012 for the newest Twitter redesign! Twitter named this latest redesign the "Let's Fly" update .
How To Make Twitter Backgrounds for the New Twitter.com | Social Media Agency | Banyan Branch
Is Twitter working for your business? Are you looking to grow a larger and more relevant Twitter following? This article will show you four actionable steps you can take to improve your Twitter experience. Why Twitter Is Not Just a Numbers Game Many brands, businesses and marketers have already discovered how powerful Twitter is for finding and engaging their audience.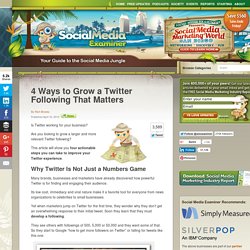 4 Ways to Grow a Twitter Following That Matters
Social Media Dashboard for Teams using Twitter, Facebook, Linkedin
Just got hired to manage your company's Twitter page? The role of a community manager is one that is increasing in number and importance, and many companies, small and large, are prioritizing social media in their marketing campaigns. While the job can be stressful and fast-paced, it also gives you the opportunity to shape a brand's voice, becoming the face of the brand, as well as becoming the most important salesperson to your company. By using some of the tips offered below you will surely be on your way to becoming a community manager rockstar! Build Up your Client Base Twitter allows you to connect directly with your brand's ambassadors, casual customers and potential customers in a far more intimate setting than even Facebook.
The Community Manager's Guide For Using Twitter To Market Your Business
Your session expired due to inactivity. ShareThis Twuffer allows the Twitter user to compose a list of future tweets, and schedule their release. @GradyBritton designed Twuffer for anyone who has a need to schedule pre-written, post-dated tweets. We bet that you'll invent creative uses for Twuffer.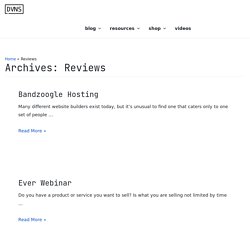 Free Hashtag Report
10 Tools to Create an Amazing Twitter Presence for You
The power of developing your own personal brand is something that I found to gain more and more importance on Twitter. Using your personal voice as a strong messenger of thoughts, great content and a powerful channel to get feedback and engage with others has been very useful for me. It has allowed me to build a very targeted Twitter following around my account and helped me grow my business solely through Twitter. Of course, Twitter alone can easily become very time-consuming. So here are my top 10 Twitter tools to build an amazing brand around your Twitter account without spending hours and hours on Twitter, yet still remaining a genuine personality.
SocialBro
Sign in to TweetChat. Signup with Twitter if you don't have an account. Our login securely authenticates you with Twitter. Once authenticated, you will be returned directly to TweetChat.
I'm a fan of using hashtags all over the web. I've been known to even use them in text messages and in real life conversations. Yes, it's sad, but the emergence of the hashtag has helped us track conversations over multiple platforms on the web. This site, TagsInAction, allows you to search multiple social sites on the web for mentions of hashtags. It's actually quite handy, especially if you're trying to track them for a charitable or marketing campaign.
This App Lets You Track A Hashtag All Over The Web
twicca - Android Apps on Google Play
The Ultimate Guide To Becoming An Amazing Twitter Curator
10 Tools to Create an Amazing Twitter Presence for You
Matthew Cassinelli (@MatthewAtGU) sur Twitter
Buffer Makes Social Sharing Smarter
InstaBG: Twitter background with Instagram
Using QR codes to update Twitter
Using QR codes to update Twitter
101 Ways to Use Twitter on Campus
Sample-Twitter-Cheat-Sheet1.jpg (1122×792)
9 Twitter Tools You Should Be Using
Twitter favorites power tips
Twitter Cheat Sheet