The Cloud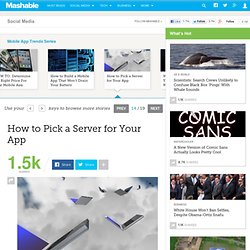 How to Pick a Server for Your App
The Mobile App Trends Series is supported by Sourcebits, a leading product developer for mobile platforms. Sourcebits offers design and development services for iOS, Android, Mobile and Web platforms. Follow Sourcebits on Twitter for recent news and updates. For mobile app developers, building an app rarely takes place in a vacuum, as most users expect their apps to interface and work with various Internet services. Building a mobile app increasingly means building an app that can interface with its own server or set of network services. For mobile app developers, picking and choosing a server or cloud solution for things like storage, push notifications, user information and analytics can be a struggle.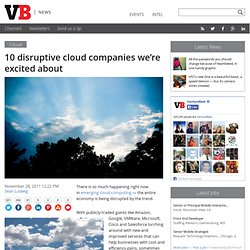 10 disruptive cloud companies we're excited about
There is so much happening right now in emerging cloud computing — the entire economy is being disrupted by the trend. With publicly-traded giants like Amazon, Google, VMWare, Microsoft, Cisco and Salesforce lurching around with new and improved services that can help businesses with cost and efficiency gains, sometimes it's easy to miss the hot players that are up-and-coming. We've assembled a list of ten private cloud companies that we think are particularly intriguing — they're focused on massive opportunities and leading the disruption in the sector they're targeting.