Social Media
The ultimate social media image sizing cheat sheet
Sugar Brand Launches Racy Craigslist Personal Campaign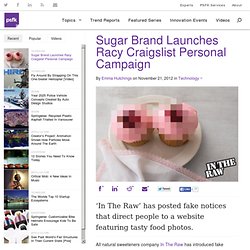 All natural sweeteners company In The Raw has introduced fake Craigslist personals that direct people to its 'racy' food photography app for sharing pixelated images of mouth-watering culinary creations. One post by the company reads: I'm just a sweetie who wants to spend Thanksgiving with someone who really loves a good meal. I've got flavor like you wouldn't believe, so let's get it on au natural and see where the evening leads us. You say "gobble gobble" and I say "pretty please with marshmallows on top!"
Language: English Bahasa Indonesia Bahasa Melayu
dwh : Our #socialmedia director
The beauty and challenge of Twitter is stuffing your most sophisticated thoughts and feelings into a measly 140 characters (or less). Unfortunately, our traditional methods of communication have proven to be a poor training ground for micro-messaging, and even the most savvy platform users have sighed in exasperation as those bright red negative character signs mock our basic intelligence. But, perhaps even worse, no good tweet is ever going to be 140 characters because it's impossible to share, respond or reference a tweet that's already at it's max. If you want to make a big statement with a small message, you have to trim the fat.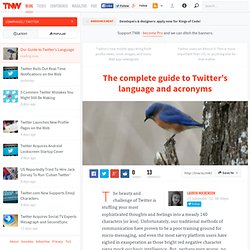 The purpose of this post is to be a living document and industry reference on the topic of social media teams, as part as my ongoing coverage of corporate social media programs. This perspective stems from industry research and deeper client engagements, see other 'breakdown' posts. Business Needs: By definition, social business requires transformation within a company, resulting in leadership, program management, and a team to see this change through. In most cases, we see this team as a centralized resource that's often cross-functional working closely with a number of corporate functions as well as business units ranging from product teams, geographies, the field, and departments.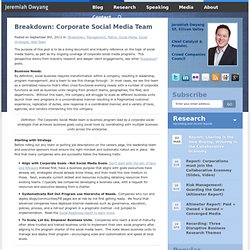 Michigan and Illinois Use Contests to Ignite Fans Through Social Media
Here's a brilliantly simple idea. Agora is a service built on the Foursquare API, designed to match you up with likeminded folk when you check in at a location. Let's say you arrive at a bar where twenty others are checked in. Agora will work its magic in the background, using the Twitter API to analyse who you share similar interests with. The service will then send out a tweet telling you and the others similar to you that you should meet, giving them scores based on their similarity to you.
Agora helps you meet new Foursquare friends when you check in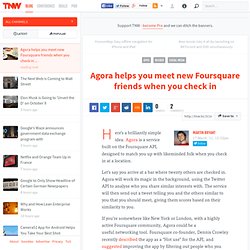 Photo by matthewcassinelli
Portland LiveHood Social Map