Music sites
Rogue Wave animated gif
A web page has appeared at music.twitter.com with a #music hashtag graphic and a sign-in button, adding further weight to reports that Twitter will be launching a music service very soon. The sign-in button leads to an authorization request for an app called "Trending Music Web," which Stephen Phillips, founder of We Are Hunted — the music service Twitter just acquired — has recently been tweeting songs from. The tweets link to tracks on SoundCloud and Rdio, suggesting that these services will form a part of Twitter Music. Although it's unclear exactly what Trending Music Web is, the name implies it could be the web portion of a wider, cross-platform Trending Music service. The #music site's sign-in button is currently non-functional, but with the page already available to view at such an obvious URL, we'd expect it to go live soon enough.
Twitter #music site hints at Trending Music launch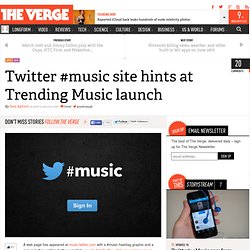 uWall.tv | Listen to a Wall of Music
JAZZRADIO.com - enjoy great jazz music
Free Music with Neverending Playlist
Photo by John W. Tuggle If I have to name two things that took my guitar playing to the next level I would say music theory and memorizing the fingerboard.
Learn The Guitar Fingerboard Thoroughly in 16 Days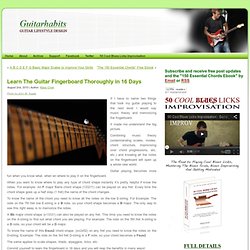 John Stanford | Deep Space | Ambient Music | Chillout
turntable.fm
Shuffler.fm
Evolver.fm | Evolving music past the Play button
Pandora Radio - Listen to Free Internet Radio, Find New Music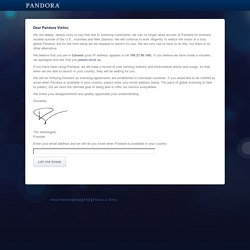 Dear Pandora Visitor, We are deeply, deeply sorry to say that due to licensing constraints, we can no longer allow access to Pandora for listeners located outside of the U.S., Australia and New Zealand. We will continue to work diligently to realize the vision of a truly global Pandora, but for the time being we are required to restrict its use. We are very sad to have to do this, but there is no other alternative.
stereomood – emotional internet radio - music for my mood and activities
Music2Text
Music2Text, the mobile service for spreading music is launching out of beta today to offer artists and labels a way to spread music via mobile devices. The SMS to mobile music platform means that fans can text a song's name with a short code to connect to a mobile music store and tracks can then be downloaded for a price determined by the label or artist that owns it. For labels, the service is free to use if the tracks or ringtones on offer are given away for free. If the music is for sale, artists and labels pay £20 ($31USD) and 100% of the revenue, net sales go to the seller.
Music2Text Launches Publicly to Spread Music Via SMS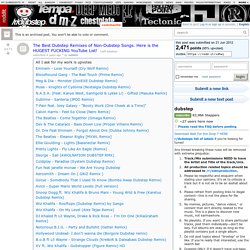 Please read the FAQ before posting Download Wait For the Drop 6 HERE r/dubsteps list of labels if you're looking for tunes!
The Best Dubstep Remixes of Non-Dubstep Songs. Here is the HUGEST FUCKING YouTube List! : dubstep
Need help filtering Spotify music? Try the Intel Sifter to get a little help from your friends
June 12th, 2012 When it comes to finding new music, Spotify has become the go to resource. But sometimes, it can be too much of a good thing. And you could use a little help finding new tunes. Enter the Intel Sifter , a new branded app for Spotify that leverages your social graph to help you find tunes.
Bassnectar explains Dubstep by Alanna Krause on Prezi
Best Dubstep of 2011 - Top Dubstep of 2011
Play NumberNin6 - Not This Time on Shuffler.fm | Shuffler.fm
Bass Bible (9790700136963): Paul Westwood
YouTube
Guns N' Roses - Sweet Child O' Mine
LYRICSnMUSIC.COM — A Lyric and Music Search Engine for Music People by Music People
Rumblefish Music Licensing Store: online music licensing for TV, film, video games, podcasts, and more
Friendly Music
matthewcassinelli | 8tracks internet radio
Chillectronic | matthewcassinelli
8tracks Helper
Posted by Cory Zechmann in Electronic, Hip-Hop, SoundtracksMar 5th, 2012 I've actually had my ups and downs with this one, it's not that I ever disliked it, I just didn't have as strong of a feeling for it. I love that signature Pretty Lights sound, but there's really nothing new as far as experimenting and that's why I love the dude so much in the first place. Still, it takes us back and makes for one hell of a Run-DMC remix… although, it's still not on the level of his 2010 unreleased remixes (yet). Run-DMC · It's Tricky (SSX Pretty Lights Remix)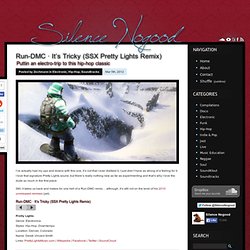 Run-DMC · It's Tricky (SSX Pretty Lights Remix) | Silence Nogood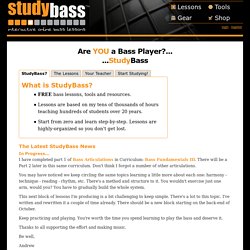 Online Bass Lessons at StudyBass.com
What is StudyBass? FREE bass lessons, tools and resources. Lessons are based on my tens of thousands of hours teaching hundreds of students over 20 years. Start from zero and learn step-by-step.
Punch & Kisses - Demo by Matthew J. Cassinelli on SoundCloud
Ellis - BandPage Player
Punch & Kisses - Demo by Matthew J. Cassinelli on SoundCloud