Marketing
Using Market Research Just for Marketing Is a Missed Opportunity - Werner Reinartz - Harvard Business Review
Advertising & Marketing | DHX Advertising | Portland, OR | Marketing101
How to Market an iPad App
Now that you have successfully developed your iPad app it's time to move on to the real challenge — marketing. Getting people to notice your app can be just as hard as developing the software. After all, there are thousands of other apps out there competing for attention, hundreds of thousands if you count all the iPhone apps too! Here are a few marketing strategies that can help draw attention — and buyers — to your app.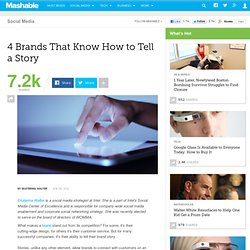 Ekaterina Walter is a social media strategist at Intel. She is a part of Intel's Social Media Center of Excellence and is responsible for company-wide social media enablement and corporate social networking strategy. She was recently elected to serve on the board of directors of WOMMA. What makes a brand stand out from its competition?
The higher-quality the ad, the better its impact? Maybe not, in today's saturated market. In April, the Plenty of Fish Ad Blog put out a post that quickly made waves among the technorati and advertising-focused, as its conclusions were antithetical to the common sense surrounding how to garner the attention of the public. You see, Plenty of Fish put together a slick, normal Facebook ad, and they made a utterly terrible one in Paint.
Bad Ads, Big Returns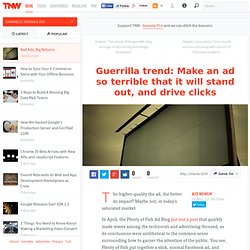 Getting Users For Your New Startup - a blog by pud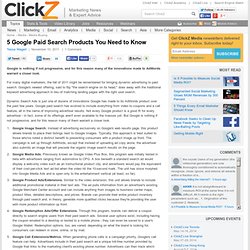 Tessa Wegert | November 10, 2011 | 1 Comment inShare33 Google is nothing if not progressive, and for this reason many of the innovations made to AdWords warrant a closer look.
5 Google Paid Search Products You Need to Know
Promotions / Event Planning
2012 conferences: Social media, tech & marketing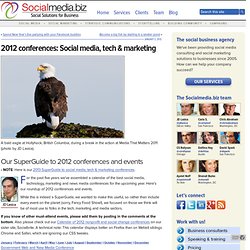 A bald eagle at Hollyhock, British Columbia, during a break in the action at Media That Matters 2011 (photo by JD Lasica). Our SuperGuide to 2012 conferences and events • NOTE: Here is our 2013 SuperGuide to social media, tech & marketing conferences.
Every individual in Florida needs a number of types of insurance either by law or for peace of mind. But it's also important for a number of them to have Florida business insurance too. Without this, their whole company could end up becoming quite the liability over night. Business Insurance The truth, however, is that business insurance actually refers to at least four separate versions.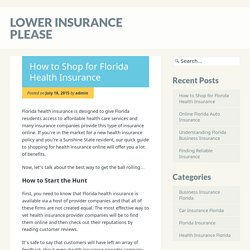 Discover the key element that's missing from 99% of businesses!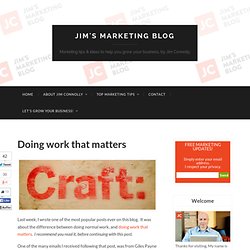 Last week, I wrote one of the most popular posts ever on this blog. It was about the difference between doing normal work, and doing work that matters. I recommend you read it, before continuing with this post. One of the many emails I received following that post, was from Giles Payne in Canada. Giles asks an excellent question, which echoed what the majority of you asked me. Here's the question along with my answer:
If you read things on the Internet, like The Next Web, you've probably seen an infographic. The art of the infographic depends on how what data is being presented, how cleanly, and how attractively. A well-done infographic is more interesting than a text-only post of data.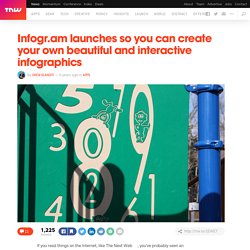 Ah yes. A familiar beginner's problem for any new blogger: No readers. Assuming you're comparing your brand new blog to an already-well-established website with a huge following, it's understandable why the task of luring in an audience might seem overwhelming. Not everyone can snap their fingers and magically summon a rabid fan base of hungry readers just waiting to devour your every word. That said, there are a few things you can do to attract readers and drive traffic to your blog, most of which only take a bit of leg-work for the first few weeks, but really help pave the road for all of your future posts. For those of you struggling with the very common blog-population-zero issue, let me first point you in the direction of my previous post, how to define your target audience.
How to attract readers to your blog and make them stay
Bad Ads, Big Returns
The Central Genius of Apple's Advertising Under Jobs | Bob Garfield
Do you want more client inquiries from your marketing? Would you like to make your marketing more compelling, so it encourages more people to take action when they read it? If you would, then read on! Most marketing content is written to capture the attention of, and then inform, a targeted group of people. Attract more business inquiries than ever before with these 6 powerful marketing tips!
What the !@#$ is marketing automation?
VentureBeat inadvertently stirred up a storm of controversy when we published a guest post about marketing automation. The guest post, by Justin Gray of LeadMD, looked innocuous enough at first. To our editors, it at first seemed like a straightforward list of the pros and cons of several different marketing automation solutions: Eloqua, Genius, Marketo, Pardot and Silverpop. Unfortunately, when we published the post we neglected to mention one important fact: Gray's company, LeadMD, is a reseller of one of those services, Marketo.
How NOT to look like a fake!
One of the big changes of the past few years, is that your marketplace can now see what you say AND what you do, like never before. Until relatively recently, it was possible to have glossy brochures and advertisements, which showcased us as consummate professionals. Then, our prospective clients wouldn't know any different, until they met us or spoke with people who had experience of us and our work. Thankfully, the world has changed Today, many of our actions are visible to anyone who wants to check us out and these highly visible actions can be extremely revealing.
Authenticity Vs. Perfection: How To Brand Like A Rock Star
Billy Joel's schmaltzy ballad "Honesty" spoke the truth back in 1979. Yet at the time, the accepted strategy for building a brand was creating perceptions that were often far removed from reality. Honesty was not a widely accepted strategy for marketing before the digital revolution that hit us in the late 1990s. Today, growing legions of brands are discovering that honesty is essential in developing a loyal fan base. They are learning the lesson evident in rock 'n' roll for years: exposing your faults and imperfections makes you more real, more human, and more likely to be loved.