FUNNY LISTS
Get flash to fully experience Pearltrees
The 48 Laws of Power (2000) is the first book by American author Robert Greene . [ 1 ] The book, an international bestseller , is a practical guide for anyone who wants power, observes power, or wants to arm himself against power. [ 2 ] [ 3 ] [ 4 ] It has sold over 1.2 million copies in the United States alone and is popular with famous rappers , entrepreneurs , celebrities , athletes and actors including 50 Cent , Jay-Z , Kanye West , Busta Rhymes , Ludacris , DJ Premier , Dov Charney , Brian Grazer , Andrew Bynum , Chris Bosh , and Will Smith . [ 4 ] [ 5 ] [ 6 ] [ 7 ] [ 8 ] [ 9 ] [ edit ] Background
7 Apr Deep in the bowels of the internet, I came across an exhaustive list of interesting Wikipedia articles by Ray Cadaster. It's brilliant reading when you're bored, so I got his permission to post the top 50 here.
The best movies evoke tears, laughter, terror, reminiscence, and/or mystery in a truly personal way. Anything less (AKA, around 98% of all movies) serves no purpose other than to shove mindless, forgettable fodder in our face and line Hollywood's pockets (Be afraid Michael Bay, be VERY afraid). This is that other , sacred 2%—the Holy Grail of cinema. Note : "Memorable Moments" may contain spoilers. 100.
Originally, a landmark literally meant a geographic feature used by explorers and others to find their way back or through an area. Now, a landmark includes anything that is easily recognizable, such as a monument or a building, or any other spot to designate places that might be of interest to tourists. A few examples are the Statue of Liberty, Uluru, the Taj Mahal, Mount Everest, and the Eiffel Tower. When we see one of those, everyone knows in which part of the world they are located. Here are 50 landmarks for you to recognize. Are you ready for a trip around the world?
How to be a Successful Evil Overlord by Peter Anspach Being an Evil Overlord seems to be a good career choice. It pays well, there are all sorts of perks and you can set your own hours. However every Evil Overlord I've read about in books or seen in movies invariably gets overthrown and destroyed in the end. I've noticed that no matter whether they are barbarian lords, deranged wizards, mad scientists, or alien invaders, they always seem to make the same basic mistakes every single time.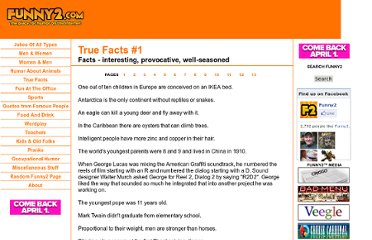 Facts - interesting, provocative, well-seasoned One out of ten children in Europe are conceived on an IKEA bed. Antarctica is the only continent without reptiles or snakes. An eagle can kill a young deer and fly away with it. In the Caribbean there are oysters that can climb trees. Intelligent people have more zinc and copper in their hair.
Robot For President YouTube - Hitler Banned From iSketch! Content Aware Image Resizing (found by J-Roen) SeaDragon @ TED The Bad Signage Pool Dice Stacking Fantoche (2 times) RENT - online auditions Polo without the horse 3d motion portrait Fruit Vessel Monkey Loves Pigeon Jessica the Pet Hippo (found by Julia ) Treadmill Madness Bending Light Sleeping Concert In Spain Partial Face Transplants Cop riding Segway runs down suspect color matching coffee cup São Paulo No Logo super fun happy slide Daft Hands Crowd Farm zZz Babies Eating Lemons Type the Sky Screaming Beans Visible Only Through a Digital Camera Walk it Out (found by Lauren) Inmate Thriller The Moment the Tallest Man Met the Shortest Man David Shrigley Music Video Brain Cloud Pictures at Right Angles (found by Doodles ) The New Internet Hero Laughing Yoga 2 Jed Movie The Wind Apnee Typography Toys Letter of the Day (found by Paul Drew) Origins of Punctuation Marks