TECHNO
CNET France. Webopedia. Main » TERM » P » (fish´ing) (n.)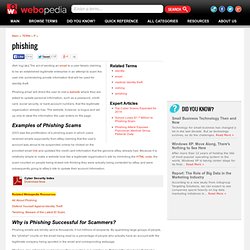 The act of sending an email to a user falsely claiming to be an established legitimate enterprise in an attempt to scam the user into surrendering private information that will be used for identity theft. Phishing email will direct the user to visit a website where they are asked to update personal information, such as a password, credit card, social security, or bank account numbers, that the legitimate organization already has.
The website, however, is bogus and set up only to steal the information the user enters on the page. Unnamed. Frédéric CAVAZZA. Epipheos. Le Journal du Net. ZDNet. Futura-techno. Le Dashboard de MacOS 10.4 et ses widgetsCrédits : Apple Dashboard est l'une des nouvelles fonctionnalités proposées par Tiger, la dernière mouture de MacOS X.
Le Dashboard est un "écran supplémentaire" qui apparaît et disparaît à volonté par dessus l'écran traditionnel. Il permet de stocker de petites applications utilisées occasionnellement (la calculatrice, les post-it...) ou amusantes (afficher la météo, suivre un vol commercial en temps réel...) sans qu'elles n'encombrent pour autant l'écran principal.
---