Logo
April 8th in Compilations, Digital Art, Inspiration by Ben Rama . Tweet An awesome collection of 80 Logos from the most popular at Logo Faves . Looking at Logos is always fun and inspiring , we'll never grow tired of them. Here we present, in descending order from most popular , 88 of the highest rated logos as voted for by …
88 Fantastically Creative and Brilliant Logos | Digital Art Empire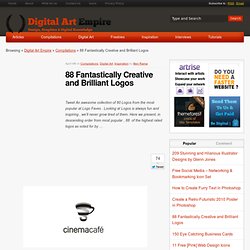 Logo Design Trends 2009 - Showcase | 1stwebdesigner - Love In Design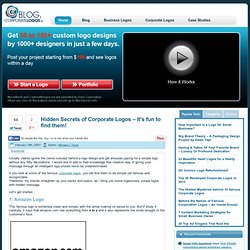 Usually clients ignore the clever concept behind a logo design and get annoyed paying for a simple logo without any frilly decorations. I would like to add to their knowledge that creative way of giving your message through an intelligent logo should never be underestimated. If you look at some of the famous corporate logos, you will find them to be simple yet famous and recognizable.
» Hidden Secrets of Corporate Logos - It's fun to find them!Corporate Logo Design Blog - Logos And More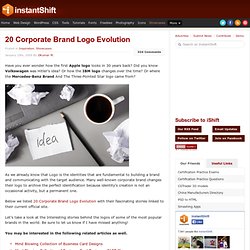 Have you ever wonder how the first Apple logo looks in 30 years back? Did you know Volkswagen was Hitler's idea? Or how the IBM logo changes over the time? Or where the Mercedes-Benz Brand And The Three-Pointed Star logo came from? As we already know that Logo is the identities that are fundamental to building a brand and communicating with the target audience.
20 Corporate Brand Logo Evolution | Showcases
Inspire Yourself: 58 Creative Logos | Graphics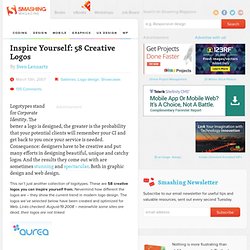 Advertisement Logotypes stand for Corporate Identity. The better a logo is designed, the greater is the probability that your potential clients will remember your CI and get back to you once your service is needed. Consequence: designers have to be creative and put many efforts in designing beautiful, unique and catchy logos. And the results they come out with are sometimes stunning and spectacular.
Web 2.0 is special. And so are the places that make it happen.Here's how the offices of web 2.0 companies look like. I've also added descriptions to each site in case you've been living in a bubble and don't know what they do. Loved and hated by many and founded in march of 2006, Twitter is a social networking and micro-blogging site that allows users to post their latest updates. An update is limited by 140 characters and can be posted through three methods: web form, text message, or instant message.
Web 2.0 workplaces [PICS] - UADDit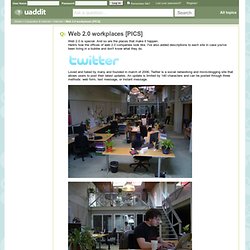 crybaby
The Andes Wine Experience on the Behance Network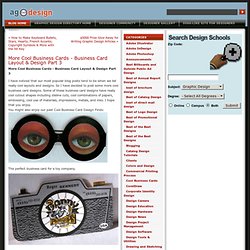 More Cool Business Cards - Business Card Layout & Design Part 3 I have noticed that our most popular blog posts tend to be when we list really cool layouts and designs. So I have decided to post some more cool business card designs. Some of these business card designs have really cool cutout shapes including dieline cuts, cool combinations of papers, embossing, cool use of materials, impressions, metals, and inks. I hope that you enjoy. You might also enjoy our past Cool Business Card Design Finds:
» More Cool Business Cards - Business Card Layout & Design Part 3 Graphic Design Blog & Graphics News Blog
Fun Forever - Luxury fun is affordable for everyone! » Bikes from Watches
Jose Geraldo Reis Pfau's hobby is making bikes and motorcycles out of old watches. He makes them from metal, glass, aluminum, plastic, silver and even gold pieces. He got the watches from his friend Alexandre Ranieri Peters who runs a campaign at his shop where whoever buys a new watch gives the old one as a first payment.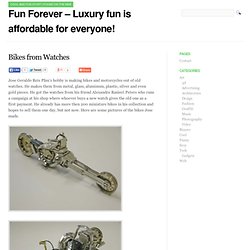 Take a look at the logo designs above. What's your first reaction? They bowl you over and leave you speechless - and somewhat confused don't they? These logos don't have beautiful shapes, shadows, mirrored reflections, warm colors, or icons that signify something; they look like the result of some kid playing around mindlessly. So why would anyone wish to have such a logo? The explanation is simple: this type of logo design is very different and will definitely stand out by sheer reason of being totally different.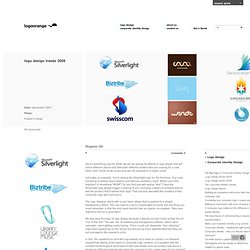 You've seen these tech logos everywhere, but have you ever wondered how they came to be? Did you know that Apple's original logo was Isaac Newton under an apple tree? Or that Nokia's original logo was a fish?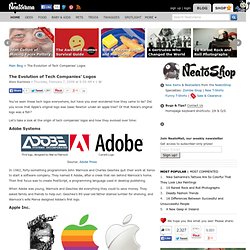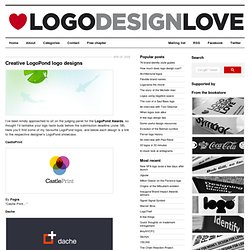 Creative LogoPond logo designs
I've been kindly approached to sit on the judging panel for the LogoPond Awards, so thought I'd tantalise your logo taste buds before the submission deadline (June '08). Here you'll find some of my favourite LogoPond logos, and below each design is a link to the respective designer's LogoPond showcase. CastlePrint By Fogra "Castle Print…" Dache By dache "My design studio's logo.
interactie : portfolio
15+ Amazingly clever logos | Abduzeedo - design inspiration and tutorials
Logo design is a huge part of graphic design. A logo is a name, symbol, or trademark designed for easy and definite recognition. I'd like to share with you a selection of logos that I feel are some of the best around. Hope you enjoy. These are all taken from the book, 'Logo', a book from a design journalist, Michael Evamy, published by Laurence King. Laurence King have a great range of Art & Design related books.
33 Exceptional Logo Re branding In 2008 For Your Inspiration - Opensource, Free and Useful Online Resources for Designers and Developers