Mathieuchamel
Max Dama on Automated Trading. Express. Hampi Express that connects Mysore with Hubli via Bangalore is a popular option to reach Hampi from Bangalore.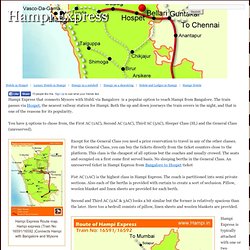 The train passes via Hospet, the nearest railway station for Hampi. Both the up and down journeys the train covers in the night, and that is one of the reasons for its popularity. You have 5 options to chose from, the First AC (1AC), Second AC (2AC), Third AC (3AC), Sleeper Class (SL) and the General Class (unreserved). Hampi Express Route map. Hampi express (Train No: 16591/16592 )Connects Hampi with Bangalore and Mysore. Compensation Carbone - Portail - Annuaire : développement durable, écologie, commerce équitable, Bio, économie sociale et solidaire. SIGMAT COATINGS : Sigma invente la première carte à reboiser la Terre. L'arbre à palissandre : petit exemple très très parlant - Vous avez dit durable ? Qu'est ce que la compensation carbone ? Qu'est ce que la compensation carbone ?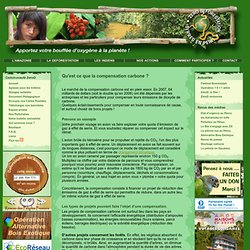 Le marché de la compensation carbone est en plein essor. En 2007, 64 milliards de dollars (soit le double qu'en 2006) ont été dépensés par les entreprises et les particuliers pour compenser leurs émissions de dioxyde de carbone. Reduce what you can, offset what you can't. Climate change is among the biggest environmental issues this century.
While most agree that we must do something, the challenge can appear to be too great, too complicated for any one of us to make a difference… until now. Dell is committed to leading our industry on environmental stewardship. Today we're living in the "Re-Generation," which includes people of all ages throughout the world who want to make a difference in improving the earth we all share. As part of our zero-carbon initiative, we are partnering with customers to become the greenest technology company on earth. Environmental Commitment. Forestiere-cdc. Help.
Vidéos Pearltrees
Make up, cosmetic, professionnal make up, cosmetic product, professionnal make up tips. « Gestion priv e : Un mod le r inventer » Jamais confier la gestion de son patrimoine financier à un professionnel n'a été un choix aussi complexe.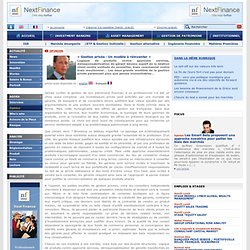 Les investisseurs privés sont sollicités par une myriade de gérants, de banquiers et de conseillers divers justifiant leur valeur ajoutée par des argumentations et une posture souvent semblables, dans le fonds comme dans la forme. Mais cette homogénéité des offres de gestion est trompeuse. Dans leur organisation du service, leur modèle économique, la typologie de leurs gammes de produits, voire la conception de leur métier, les offres en présence divergent sur de nombreux points. Le choix est donc lourd de conséquences pour qui recherche un service réellement adapté à sa problématique patrimoniale à long terme. Que choisir, donc ? TheFWA.
Investissment
---